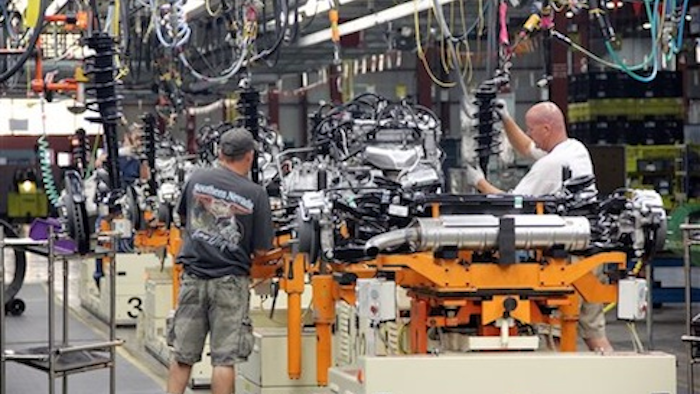 General Motors and Ford might seek a new, lower wage tier from the United Auto Workers union after a report showed they have the highest labor costs among U.S. automakers.

That type of request, however, could set up a showdown with the union, which is instead looking to narrow the pay disparity between veteran employees and new hires during contract talks with the "Big Three" automakers.

Under the collective bargaining agreement struck in 2007, veteran UAW assembly workers earn $28 per hour while the wage for the second tier is capped at $19.28. According to a Bloomberg report, GM and Ford could ask for a third pay tier below the $19.28 threshold.

A new study by the Center for Automotive Research found GM's average hourly labor costs were $58 per hour, with Ford's trailing just behind at $57 per hour; only Mercedes-Benz saw higher costs among companies with U.S.-based auto plants. Big Three rival Fiat Chrysler, meanwhile, saw average labor costs of $48 per hour, a result of hiring more lower-salary workers.

Fiat Chrysler's rate approached the hourly averages of Honda and Toyota – a sign of progress given staggering gaps with foreign automakers operating in the U.S. just eight years ago – but each of the Big Three remained higher than Nissan, Hyundai, BMW and Volkswagen. A third tier could bring GM and Ford increasingly in line with those foreign competitors, whose workers are not represented by the UAW.

"For the 2015 negotiations, we're open to discussing many different solutions with our UAW partners that will allow us to continue to employ a competitive labor rate and add U.S. jobs and investment," a Ford spokeswoman told Bloomberg.

UAW officials, however, said ahead of their bargaining convention this week that the existing second tier violates its goals of equal pay for equal work and suggested it only began as a temporary measure to help the ailing auto industry.

Union president Dennis Williams previously indicated his members would seek a general wage increase and the narrowing of the gap between the tiers.

UAW is a top stockholder in GM and therefore has an interest in keeping labor costs in check, but the contract negotiations are set to begin during a tumultuous time for organized labor. Several prominent unions called for pay increases that reflected the economic recovery and rising compensation for executives.

Williams said he doesn't want to "blow it" on the upcoming contract after both sides survived the Great Recession, but he said he is prepared to call a strike if necessary – a step that was prohibited under the four-year agreement that expires in September.
"Everybody's concerned with the inequity," Williams said prior to the UAW convention. "Our goals are to show that we're listening, we're unified and we're going throughout bargaining with an objective."