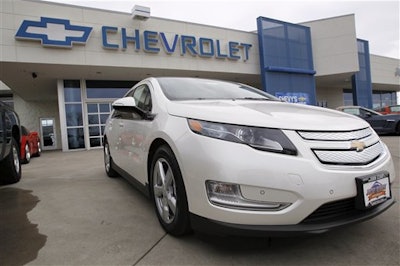 DETROIT (AP) -- General Motors is knocking 12.5 percent off the Chevrolet Volt's sticker price as it tries to better compete with electric car rivals.
The automaker says the 2014 Volt now will start at $34,995 including shipping — $5,000 less than the current model. The new model is scheduled to reach showrooms late this summer.
GM and other automakers have been forced to cut electric car prices or offer discounted leases in order to move them off dealer lots. Relatively stable gasoline prices, more efficient gasoline engines and increased competition from new models have tamped down electric car prices.
GM says including a $7,500 federal tax credit, the Volt could cost as little as $27,495.
Chevrolet has sold 11,643 Volts through July, up 9.2 percent from the same period a year ago. But its main rival, the electric Nissan Leaf, has seen sales more than triple to 11,703 after that company cut some features and lowered the base price to $29,650 including shipping.
The Volt can go about 38 miles on a battery charge, then a small electric motor kicks in to power the car until it can be recharged. GM said it has cut costs as it has gained experience making electric vehicles and parts, all while adding features and increasing the car's battery range.