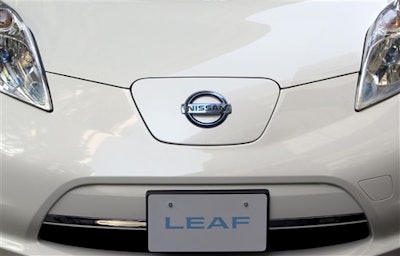 TOKYO (Kyodo) -- Nissan Motor Co. and its French alliance partner Renault SA said Tuesday they have sold a combined 100,000 electric vehicles globally.
However, the companies' sales of zero-emission cars have not been as strong as expected due to higher price tags than equivalent gasoline-powered vehicles as well as scarce charging facilities.
The alliance started selling EVs in December 2010 when Nissan brought out its Leaf model.
Renault and Nissan planned to sell 1.5 million units of EVs worldwide by the end of fiscal 2016 through March 2017, but the target is likely to be missed.
Of the total, around 30,000 units of Nissan's Leaf have been sold in the United States, 28,000 units in Japan and 12,000 units in Europe. Renault sold a combined 30,000 units of its four models.