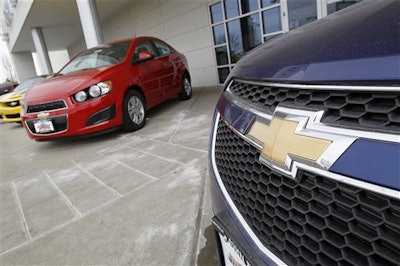 ST. LOUIS (AP) — General Motors is again expanding its suburban St. Louis plant in Wentzville, the second expansion in less than two years at the facility.
The $133 million expansion announced Wednesday calls for GM to build a new 114,000-square-foot stamping press. Construction will begin in July and the press is expected to be operational by early 2015. The expansion is expected to create or retain 55 jobs.
A stamping press takes sheet metal and stamps components like doors, hoods and fenders for vehicle assembly, GM spokesman Dave Baldridge said. The new press will stand about 30 feet tall and weigh 6.5 million pounds.
"Stamping parts where we assemble vehicles improves manufacturing efficiency and contributes to the high level of quality our customers deserve," Larry Zahner, manufacturing manager for GM North America, said in a statement.
GM makes the full-size Chevrolet Express and GMC Savana vans at the plant. The company employs about 2,000 people in Wentzville, a St. Charles County town about 40 miles west of St. Louis.
In 2011, GM announced a $380 million expansion at Wentzville to produce new mid-size Chevrolet Colorado and GMC Canyon pickup trucks. The company said at the time it would add or retain 1,260 jobs for the pickup line, and add 400 new jobs to support demand for the Express and Savana.
United Auto workers Vice President Joe Ashton said the latest expansion "further demonstrates the confidence GM has" in union workers in Wentzville.
Gov. Jay Nixon, who has called revitalizing Missouri's auto industry one of his top priorities, called the announcement "another great win for Missouri workers and our economy."
The state provided a package of economic incentives, contingent upon GM meeting job creation and investment criteria.
The GM move is the second big auto plant expansion Missouri in less than two months. In May, Ford Motor Co. said it will add a third shift for the F-150 and hire hundreds of new workers at its Claycomo plant in Kansas City.