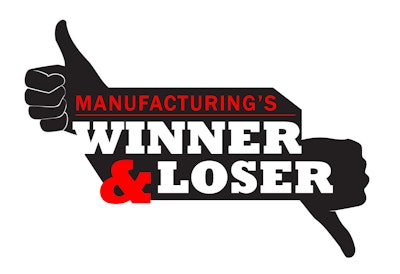 This week's winner and loser are both from the automotive sector. The winner is utilizing new technology and harnessing innovation; the loser is facing two different recalls.
Winner
Local Motors, an automotive startup, introduced its first 3D printed car, the Strati, earlier this year. This week, however, the company introduced its LM3D Swim, the first 3D-printed car designed for mass production.
Currently, about 75 percent of the LM3D Swim is 3D-printed, but the company intends to continue developing a design to increase that number to 90 percent. The LM3D is all-electric and is expected to have several variations throughout 2016, with deliveries starting in 2017.
The LM3D chassis must pass federal crash tests, and Local Motors is in the process of opening a factory in Knoxville, Tenn. Though there are clearly a few additional steps before these 3D-printed vehicles are hitting the roads, this is undoubtedly big news in the auto industry.
Loser
Earlier this week, Honda issued a recall for more than 25,000 vehicles in the U.S. due to an airbag issue. The rear grab rail brackets need to be replaced, as they could interfere with the deployment of a side curtain airbag, the company says.
Later in the week, the automaker told the transport ministry it planned to recall more than 105,000 vehicles in five different models — for the second time. These models, including the popular N Box minicar, face issues that could lead the continuously variable transmission's drive pulley shaft to break.
Honda had previously recalled 384,000 vehicles of the same five models in June 2013 to fix their hydraulic control computer program. According to the company, however, this fix is believed to be insufficient due to nine reported cases of the problem since December 2013.
Although there were (thankfully) no injuries in either recall case, the automotive industry has seen numerous recalls recently, and consumers are wary. Two recalls in one week — one of which is the second time — leads Honda to be a lesson for all automakers: if you must recall, make sure the fix is right the first time.