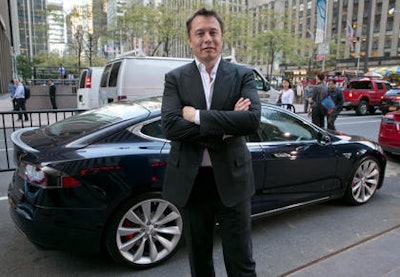 This week Tesla announced the unveiling of a new, experimental owner referral program and, at first glance, the perks of participation definitely sound alluring — a discount to new-car buyers, a tour of the company's giant battery factory currently under construction and, oh yeah, a free Model X SUV.
However, before anyone gets too excited, it's important to read the fine print. No one, not even Elon Musk, just gives away a car with a starting price tag of $70,000.
So, let's start at the beginning.
The first and most accessible incentive is that this program will pay current owners $1,000 in credits to persuade friends and family to buy a new Tesla — credit only, no cash will be exchanged. Also, these buyers will also receive the $1,000 discount toward their new Tesla.
Also, Tesla owners who get five friends to buy a new Tesla will earn the owner (and a guest) a tour of the company's giant battery factory now under construction.
Lastly, Tesla is only giving away one (yes one) free Model X SUV and that's to the first Tesla owner to persuade 10 friends to buy a car.
Here's another kicker: New car orders must be placed by September 30 to get any of these deals, and the referral program ends on October 31.
The short timeline speaks to the experimental nature of this yet unnamed incentive program. Musk said that Tesla isn't sure if the program will have a meaningful impact on sales, but it's definitely an interesting approach to bypassing the direct-sales model that the company isn't permitted to use in the U.S.
Musk called the incentive platform a sort of "guerilla tactic against car dealers in certain states," alluding, no doubt, to the ongoing feud with the state of Texas.
So, while the incentives appear attractive, you probably have a better chance of winning the lottery than persuading 10 of your nearest and dearest to purchase one of the most exclusive cars on the market just so you can get a free Model X.
How effective do you think Tesla's incentive program will be? Comment below or tweet me @MNetAbbey.