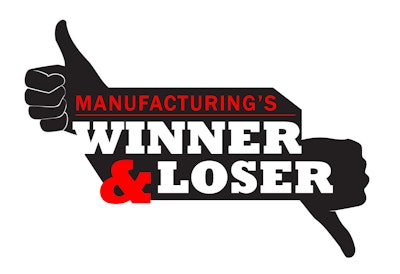 This week we have a winner from the automotive sector who has made an ambitious emission-reducing goal; this week's loser is facing over 30 health and safety violations following the deaths of two workers.
Winner
Toyota is aiming to drastically reduce emissions by nearly eliminating regular gasoline vehicles by 2050, focusing on its hybrid and fuel cell vehicles instead. This move could reduce the automaker's emissions by 90 percent.
Toyota projected it will sell more than 30,000 fuel cell vehicles per year by about 2020, 10 times the projected amount for 2017. Mirai, Toyota's fuel cell vehicle which went on sale late last year, received 1,500 orders for Japan and was just introduced to the U.S. and Europe markets. The company said by 2020, it will have sold 15 million hybrids.
Toyota's pledge follows a scandal that shook the auto industry when Volkswagen admitted to cheating on emissions tests with its diesel vehicles. Toyota Chairman Takeshi Uchiyamada said the company was taking the environment seriously because it has always tried to contribute to a better society.
In addition to cleaner-running vehicles, Toyota has also vowed to reduce its emissions during the manufacturing process to about one-third of its 2001 emissions figures.
Loser
The Department of Labor's Occupational Safety and Health Administration cited Nebraska Railcar Tuesday with 33 violations after two workers were killed and a third was injured in an explosion. The company now faces penalties of $963,000.
The Omaha-based railcar cleaning company on April 14, 2015, ignored the risky results from an air quality check and sent the workers into the railcar without proper equipment. The company also failed to continuously monitor for explosion hazards, OSHA reported. The company has been inspected by OSHA on numerous occasions and, since 2013, has had five whistleblower complaints filed against it — two of which are currently under investigation.
Other recent citations the company has received include failure to properly train workers on hazardous waste handling, lack of basic first aid and fire extinguisher training and several electrical safety violations, among others. Nebraska Railcar has been placed in OSHA's Severe Violator Enforcement Program and has 15 days to comply, contest the findings or request a conference with OSHA's local area director.