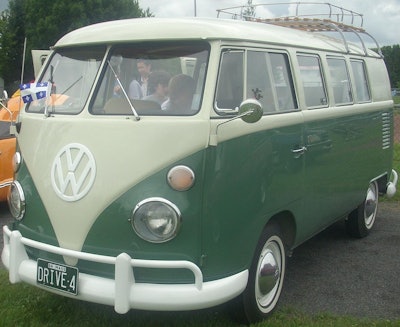 On this day in 1950, Volkswagen began production on its second vehicle after the famous VW Beetle. The VW microbus became very popular amoung hippies in the U.S. in the 1960s, becoming iconic of the counterculture movement taking place at that time.
The VW bus, originally dubbed the Volkswagen Type 2 or the Transporter, was allegedly created in 1947 by Ben Pon, a Dutch businessman who imported Beetles to the Netherlands. He saw a market for a microbus and sketched his concept, which Volkswagen engineers developed into the the familiar boxy shape.
The bus went by many nicknames — "Combi" (short for combined-use), "Splittie" (due to its split windshield), "Bulli" in Germany and, to some in the U.S., it simply went by "hippie van" because of its use with groups of young people transporting their camping gear to peace rallies and concerts.
Take a look at an ad for the VW bus from the 1950s: