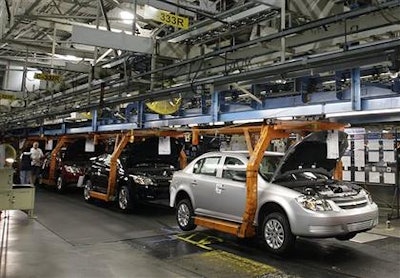 After the bailout backlash, I didn't think General Motors could face a bigger public relations nightmare. Clearly, I was wrong.
Not long after Toyota settled with the U.S. government for $1.2 billion, GM finds itself in front of Congress, answering questions about a recall that involved the deaths of 13 people.
Toyota blamed floor mats for its sudden acceleration issue, and now GM is blaming heavy key rings. According to General Motors, the recalled vehicles are still safe to drive, assuming the driver removes everything from his or her key ring. Perhaps if GM had said that a decade ago when the problem first appeared, it wouldn't bother me as much as it does now.
I'm familiar with patches as fixes. I'm also familiar with executives putting a spin on a situation so they don't end up looking like monsters that just care about money.
As the first female to head a major U.S. automaker, I should like Mary Barra. It's a major progressive step that women should be quite happy about. However, I can't find much of a reason to admire GM or Barra at the moment.
Apparently, General Motors feels that 57 cents is an "unacceptable cost" for a replacement switch that could have fixed the problem. I don't personally know any of the 13 victims, but I'd be willing to bet that their lives are worth much more than 57 cents. My best friend of over 20 years drives a Chevy Cobalt, and her life is worth much more than 57 cents to me. Why doesn't GM think so?
When a human life is at stake, why do companies get to make decisions based on finances? If the fix would have cost GM $100M back in 2007, isn't that better than the billions it may have to pay for covering up a defect or for wrongful death lawsuits? What gives an automaker the right to decide what a human life is worth?
What are your thoughts on the GM recall disaster? Leave a comment below or email me at [email protected]. You can also follow me on Twitter @MnetAmy.