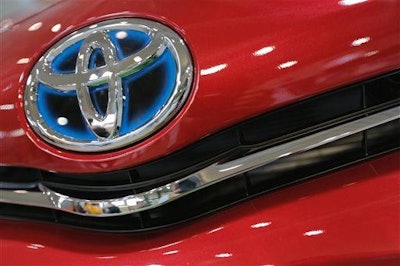 There has been no shortage of manufacturing news this week, from news of a fracking ban to continued automotive recall troubles. However, neither of these news items made the cut for IMPO's "Winner" and "Loser" of the week. Instead, the titles have been awarded to Toyota and the former Freedom Industries Executives.
Winner: Toyota
This week Toyota became the recipient of IMPO's "Winner" title after announcing increased efforts in research and development work in Michigan.
Toyota will be investing $126 million to expand its powertrain operations in Ann Arbor Township, as well as consolidating vehicle development operations in a completely new facility in York Township, Michigan. These investments are also estimated to create around 85 jobs.
This expansion will allow the Toyota Technical Center develop more engines and additional automatic transmissions for cars built in North America.
According to Ed Mantey, the senior vice president at the center, this operation "continues to be a vital part of our growing North American operations that enables Toyota to package greater value for our customers."
Losers: Former Freedom Industries Executives
Ex-presidents of Freedom Industries, Gary Southern and Dennis Farrell, and former joint-owners William E. Tis and Charles E. Herzing are receiving the "Loser" nod. They were indicted by a grand jury earlier in the week on pollution chargers due to a chemical leak last year that contaminated 300,000 peoples water supply.
According to the Associated Press, inspectors touring the facility a year ago found "a 400-square-foot pool of chemicals, four inches deep in some spots, had oozed out of an old aboveground tank, through a dilapidated, cracked containment wall and into the Elk River below."
Freedom's chemicals contaminated the water supply of the surrounding area as blue-green-tinged chemical flowed down river. Life in Kanawha Valley was nearly halted for ten days after the leak. People were forced to drive up to an hour for a clean shower, to do laundry or to simply drink safe tap water.
More than 400 people were also treated in the hospital for systems that were concurrent with exposure to the chemical.
If convicted of all the charges, Southern could face up to 68 years in prison, while Farrell, Herzing and Tis could face up to three years apiece.
Cynthia Giles, Environmental Protection Agency assistant administrator for enforcement and compliance said, "We recognize that bringing the charges doesn't undo the damages," but "we're sending a strong message here that if you cut corners at the expense of the health of American communities, you will be held accountable."
With the legal troubles and the ramifications following their facilities negligent operations I think it is only fair that these men wear the title of "Losers" of the week.