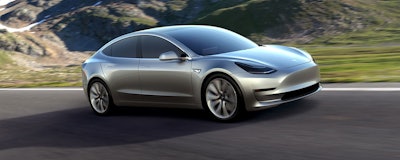 Tesla plans to raise fresh capital by offering common stock and convertible senior notes worth a total of $1.15 billion. According to Tesla's announcement of the funding round, the money will be used to strengthen the company's balance sheet and reduce the risks associated with the rapid scaling of its business due to the imminent launch of Model 3, Tesla's first car aimed at the mainstream market.

Tesla aims to begin Model 3 production in limited quantities in July before ramping it up to 5,000 vehicles per week in Q4 2017 and 10,000 vehicles per week at some point in 2018. The below chart illustrates how big of a task this production ramp-up is for Tesla. The California carmaker delivered a combined total of 183,000 cars over the past five years but has already received 400,000 pre-orders for the more affordable Model 3. Producing hundreds of thousands of vehicles per year is uncharted territory for Tesla, which is why it needs money to rapidly expand its production capacities.

In its latest earnings report to shareholders in February, Tesla announced that it expects to invest between $2 and $2.5 billion in capital expenditures ahead of the Model 3 production start, which is why $1.15 billion in fresh cash will come in handy.
This chart compares Tesla's annual vehicle deliveries since 2012 to pre-orders for the new Model 3.