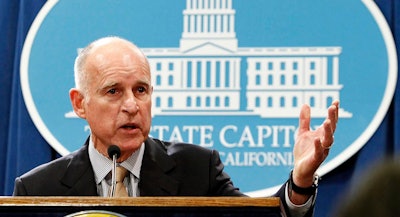 California has a well-earned reputation for pacing its fellow states in environmental regulations—from the California Environmental Quality Act more than 40 years ago to a slew of new laws taking effect this year.
With no end in sight following an ambitious inaugural address this week by newly re-elected Gov. Jerry Brown, here's a look at five ways the nation's most populous state is again set to bolster its environmental protection standards:
1) Renewable energy: Brown, kicking off a record fourth term as governor, said California should set a goal of deriving half its energy from renewable sources by 2030, double last year's 25 percent rate and far in excess of its 33 percent goal for 2020. Brown did not mention fracking in his speech, although some environmental groups have urged the governor to prohibit tapping the state's oil resources due to the potential impact on emissions.
2) Cap-and-trade: California has had a law capping carbon emissions on the books since 2012, but as of Jan. 1, it now includes oil companies, which are required to buy credits offsetting emissions from cars and trucks. Analysts say the expanded law sparked a modest increase in the state's gas prices, which had plummeted in California and across the nation due to continued declines in the price of oil.
3) Groundwater: As the state dealt with a historic drought, Brown signed a trio of bills last year that will, for the first time, manage groundwater resources on a statewide basis. And he's indicated he hopes to pass further legislation this year revising legal procedures for establishing water rights. With those measures still yet to take full effect, newly released numbers from California's Water Resources Control Board showed state residents had cut their overall water use by nearly 10 percent in November compared to the same month in 2013. Brown had set a goal of reducing water usage by 20 percent in response to the drought.
4) Bullet train: Officials this week broke ground on the nation's first high-speed train during a ceremony in Fresno. Supporters say the train—which is designed to move passengers between Los Angeles and San Francisco at more than 200 mph—will reduce highway traffic, attract development and generate revenue once it's completed. Critics contend that's many years and billions of dollars away, particularly with ongoing legal hurdles and a Republican Congress now controlling the federal purse strings.
5) Plastic bag ban: California last fall became the first state to enact a ban on plastic bags, prohibiting the bags—with some exceptions—at large retailers this summer and expanding the ban to smaller stores and pharmacies the following year. The ban has come under heavy fire from critics, however, who say they have garnered sufficient signatures to set a referendum for November 2016 to allow voters to weigh in.
As Gov. Jerry Brown's fourth term gets going, we'll see what these environment-minded reforms will mean for the state's manufacturing industry and economy.