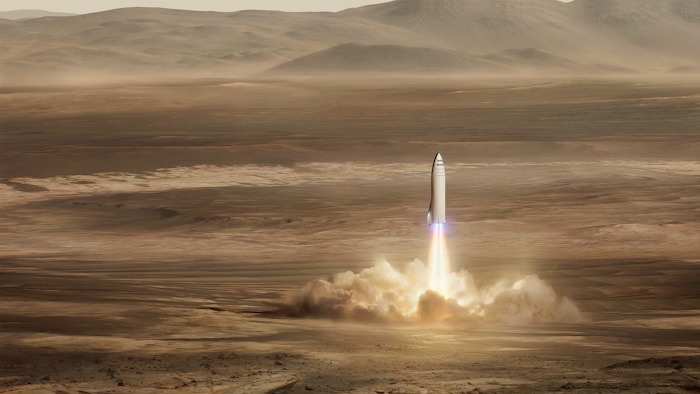 Elon Musk says that SpaceX's next rocket, the BFR, will be ready for short flights in 2019.
The timeline may be optimistic, said the SpaceX and Tesla CEO in a presentation at SXSW 2018, but he's shooting for the moon – literally.
Bolstered by last month's launch of the Falcon Heavy and the recovery of two of the three reusable stages, Musk is going full speed ahead with his plans to bring colonists to Mars or the moon. That requires the BFR, the rocket which is anticipated to be able to carry larger loads than the Falcon Heavy using 37 Raptor engines. Musk hopes to send cargo to Mars by 2022, paving the way for crews to follow.
During his talk at SXSW Musk compared his efforts to Ernest Shackleton's Antarctic expedition, saying that it will be a difficult and dangerous endeavor to establish a human presence on Mars or the moon.
As planned, the BFR will be able to carry 150 tons of cargo. Musk advertised it last year as a way to revolutionize travel on Earth:
In 2017, SpaceX President Gwynne Shotwell said that the BFR would be built at a new factory in Los Angeles, because SpaceX's Hawthorne, Calif. location was too far from the coast to make transporting parts financially feasible.