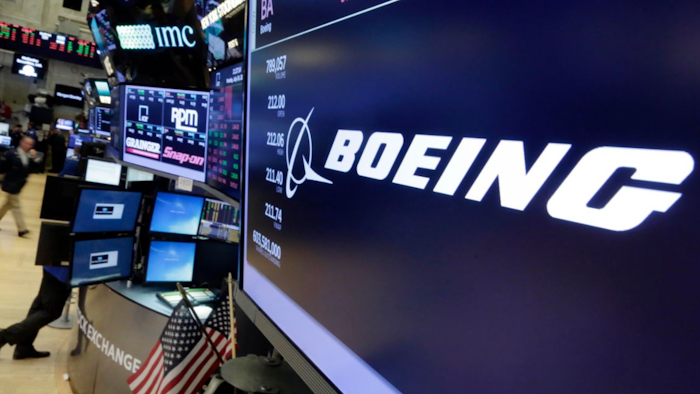 As its core business of making airplanes hums along, Boeing is venturing into related activities like making aircraft seats while also attempting to snap up a smaller jet manufacturer.
The new tax law is providing another tailwind, helping Boeing executives pursue their growth strategy.
On Wednesday, Boeing reported results for the fourth quarter of 2017 that topped Wall Street predictions, and it gave a stronger-than-expected forecast of profit and revenue in 2018.
The shares hit a new 52-week high. Even after giving back some of the morning's gain, the shares were still up $17.84, or 5.3 percent, to $355.55 in afternoon trading.
Along with European rival Airbus, Chicago-based Boeing Co. is benefiting from demand for new airliners that has created huge backlogs lasting several years. Aircraft deliveries are generating immediate cash faster than Wall Street expected.
Boeing delivered a record 763 airliners in 2017 and predicts that will rise to between 810 and 815 planes this year. It has a backlog of more than 5,800 planes valued at $488 billion, although that figure is based on list prices, and airlines usually get big discounts.
The company is speeding up production of its workhorse 737 and the 787 Dreamliner to take advantage of the hot market. But it is also looking for new sources of growth.
Boeing has been talking to Embraer about a merger for weeks. Embraer's lineup of E-jets would help Boeing counter Airbus' new majority stake in Bombardier's C Series of planes with between 100 and 150 seats and also compete with small airliners from China. Brazil's government, however, has raised concerns about a foreign takeover of Embraer.
Boeing CEO Dennis Muilenburg said merger discussions have been "productive" but that Boeing's growth strategy doesn't depend on closing the deal.
Earlier in January, Boeing announced that it would team with auto-seat maker Adient to make seats for new and retrofitted airplanes, a market that is $4.5 billion and growing. At times, Boeing has been plagued by delays in deliveries from seat suppliers. Muilenberg said the company plans to use a mix of seats from the Adient joint venture and outside suppliers.
Meanwhile, Boeing continues to ponder another major undertaking — whether to design and build from scratch a new plane designed to fill the gap between the popular 737 and the larger two-aisle planes, the 777 and 787.
Muilenberg said Boeing is talking to 50 customers and won't be rushed into a decision, which is expected this year. Boeing's last new plane, the 787, was completed behind schedule and over budget but now attracts solid orders.
Although it has racked up a string of victories, Boeing suffered a defeat last week when a U.S. trade panel rejected the company's charge that it had been harmed by Bombardier. Boeing said the Canadian company was selling C Series jets at below cost.
Not only did Boeing lose the trade case, but it drove Bombardier into a tie-up with Airbus, strengthening Boeing's chief rival. Muilenberg said Boeing was waiting to learn details of the trade panel's decision before deciding on its next move.
Boeing's fourth-quarter profit nearly doubled from a year ago, to $3.13 billion, helped by record deliveries and recent tax legislation.
Stripping out certain items, the company said core earnings were $4.80 per share. That beat the $2.91 per share forecast from analysts surveyed by Zacks Investment Research.
Revenue rose 9 percent to $25.37 billion, also beating analysts' predictions.
Boeing expects 2018 adjusted earnings between $13.80 and $14 per share and revenue of $96 billion to $98 billion. Analysts surveyed by FactSet were expecting earnings of $11.91 per share and $93.36 billion in revenue.
Cai von Rumohr, an analyst for Cowen and Co., said investors should like the strong fourth-quarter results, the 2018 forecast, and progress in controlling costs for the 787 plane.