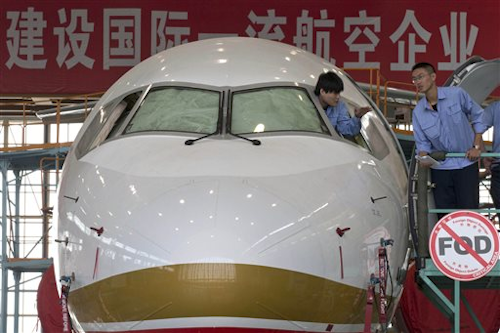 Check out some of this week's top headlines from across Manufacturing.net, from China getting ready to deliver its first homegrown airliner to a French engineering mistake that will cost $68 million to fix.
China Set To Deliver First Homegrown Jet
SHANGHAI (AP) -- A state-owned aircraft maker said Wednesday it is ready to deliver China's first homegrown regional airliner and should complete a bigger plane in 2018.
The first two of the ARJ21-700 regional jets have been completed for a Chinese carrier, Chengdu Airlines, and are coming to the end of the certification process, according to Commercial Aircraft Corporation of China Ltd. The company said it has 252 orders.
China launched the ARJ21 project in 2002 in an attempt to break into the Western-dominated aircraft market. The plane was promised for 2007 but delivery was pushed back due to technical problems.
China is expected to become one of the world's biggest aircraft markets over the next two decades. Boeing Co. forecasts total demand at 5,580 planes worth a total of $780 billion. Continue reading...
---
CEO Of China Drug Company Commits Suicide Amid Probe
BEIJING (AP) -- The chief executive of a Chinese drug company has jumped to his death, the company said Monday. State media said he was under investigation on suspicion of taking bribes.
Sanjing Pharmaceutical Co. Ltd. said Liu Zhanbin jumped Sunday from a third-floor bathroom window in a hospital where he was receiving medical treatment under the supervision of court guards.
Sanjing said the company has appointed an interim CEO and that Liu's death would have no impact on its operations.
The government's China News Service and the Communist Party newspaper People's Daily said Liu was under investigation on suspicion of taking bribes. They gave no details of the investigation. Continue reading...
---
French Engineering Flub Costs $68M To Fix
PARIS (AP) -- They measured the new trains, they checked against the latest specs on the book. But engineers at the French railway network forgot to go and measure the actual distance between tracks and platforms — a mistake that will cost 50 million euros ($68 million) to fix.
Nearly 1,300 stations are just a few centimeters (inches) too narrow for the 341 new trains that were to be introduced between now and 2016. The problem with older stations was first reported in the French weekly Le Canard Enchaine and confirmed Wednesday by French railway and government officials. Continue reading...
---
EPA Considers Ethanol Change As Industry Profits Soar
DES MOINES, Iowa (AP) -- Just as ethanol producers have been seeing the industry's most profitable months ever, the federal government is considering whether to lower the amount of the corn-based fuel that must be blended into gasoline.
That could be a serious blow to a biofuels industry that saw booms and busts connected to corn and petroleum prices before a renewable fuel standard approved by Congress in 2007 acted as a stabilizing factor.
The law, designed to reduce the nation's reliance on foreign oil and cut automobile emissions, increased the amount of ethanol required to be used each year, setting the standard at 14.4 billion gallons of corn-based ethanol for this year. In November, however, the EPA proposed the first rollback since the standard was enacted, to 13 billion gallons. Continue reading...
---
GM Investigation Reveals Banned Words
DETROIT (AP) -- What do the words "safety," ''chaotic" and "problem" have in common?
They're all on General Motors' list of banned words for employees who were documenting potential safety issues.
The revelation of the 68-word list is one of the odder twists in GM's ongoing recall of 2.6 million older-model small cars for defective ignition switches.
On Friday, the U.S. government slapped GM with a $35 million fine for failing to report the deadly defect for more than a decade. The government also released a 2008 GM training document that includes the list and warns employees to stick to the facts and not use language that could hurt the company down the road. Continue reading...
---
Prosecutors Say Chinese Targeted 4 Major Manufacturing Firms
PITTSBURGH (AP) -- Four major manufacturing firms that are based or do much of their work in western Pennsylvania, plus the United Steelworkers of America, were hacked by five Chinese army officials who allegedly stole trade secrets and other proprietary or sensitive information, federal authorities said Monday.
Westinghouse, U.S. Steel, Alcoa, and specialty steelmaker Allegheny Technologies Inc., or ATI, were targeted in the scheme that allegedly began in 2006, according to an indictment.
"This 21st-century burglary has to stop," U.S. Attorney David Hickton, who's based in Pittsburgh and will handle the case, said at a news conference in Washington. Continue reading...
Every Friday, we will be rounding up the most popular news items of the week based on site traffic. Feel free to share your thoughts, questions or concerns by sending an email to amy.lawrence@advantagemedia.com.