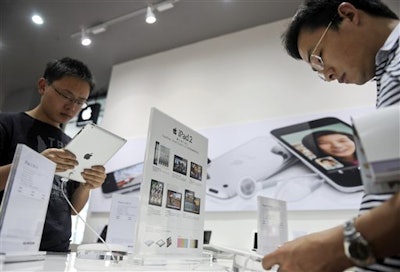 NEW YORK (AP) — Apple has asked online retailer Amazon.com to stop selling the iPad in China, according to a published report.
The Wall Street Journal said Thursday that Apple pulled the iPad 2 from websites of some unauthorized merchants in China. This includes Amazon.com Inc.'s Chinese site.
The report comes amid an escalating trademark dispute between Apple and a company that claims it owns the iPad name in China.
Apple confirmed that Amazon is not an authorized reseller of the iPad. The online retailer is only authorized to sell the iPhone and the iPod. In the U.S., though, the iPad was still available for sale through Amazon as of Thursday.
Amazon says it does not comment on relationships with vendors.