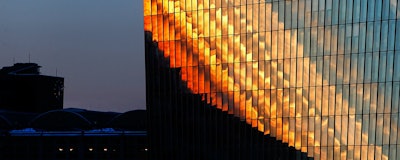 FRANKFURT, Germany (AP) — The European Central Bank hinted Thursday that it is closer to withdrawing a key economic stimulus program as the eurozone economy recovers its strength after years of crisis and stagnation.
The bank left unchanged its key interest rates as well as the size of its bond-buying stimulus program after its latest policy meeting. But in its statement it omitted an earlier promise that it could increase its bond-purchase stimulus in size or duration if the economic outlook worsens.
Economic growth hit a strong annual rate of 2.7 percent in the fourth quarter, making that promise increasingly outdated.
The bank has said it will continue buying 30 billion euros ($37 million) in bonds per month through September and longer if needed — but has given no precise end date.
Withdrawing the stimulus could cause the euro to rise in value against other currencies, potentially hurting exporters, and it could mean higher returns on savings as well as stiffer borrowing costs for indebted governments in the 19-country eurozone.
The euro jumped Thursday on the change in the ECB's statement. It rose from $1.2379 before the bank issued its policy statement to around $1.2412.
The stimulus program, known as quantitative easing, pushes newly printed money into the economy. That in theory should lower borrowing rates and raise inflation and growth. But while growth has bounced back, inflation has been slow to respond. It remains at 1.2 percent, stubbornly below the bank's goal of just under 2 percent, the level considered best for the economy.
The bond purchases were started March 2015 to help the eurozone bounce back from troubles over government and bank debt in several member countries. Greece, Ireland, Portugal, and Cyprus needed to be bailed out by eurozone governments and the International Monetary Fund, while Spain got a bailout for its banks. Heavily indebted, slow-growth Italy was not bailed out but saw borrowing rates rise dangerously before ECB head Mario Draghi calmed the crisis in 2012 with a promise to "do whatever it takes" to preserve the euro.
The economy is now doing better, but the bank has moved cautiously in ending its crisis measures for fear of roiling recently volatile financial markets.
Stimulus from the ECB, U.S. Federal Reserve, Bank of England and others has helped the global recovery from the Great Recession but has also driven bonds and stocks higher. Stimulus withdrawal is already under way in the United States, where the Fed has started raising interest rates and running down the pile of bonds it purchased.
The end of the stimulus era is expected to have sweeping effects across the economy and markets. It will result in higher long-term borrowing rates for governments and home buyers, and a return of interest payments on savings accounts. It should make it easier for people and companies to fund pension savings. But it could make richly valued stock markets less attractive relative to more conservative holdings.
The bank left its key interest rates unchanged. The refinancing rate at which it loans to banks remains at zero, while the deposit rate on money left at the ECB by commercial banks stayed at minus 0.4 percent. The negative rate is a penalty aimed at pushing banks to lend the money rather than hoard it.