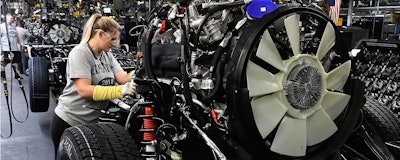 WASHINGTON (AP) — Orders for long-lasting manufactured goods rose 2.9 percent in December, the fastest pace since June and another sign of strength for American industry, the Commerce Department said Friday.
Orders were lifted by a 15.9 percent surge in demand for civilian aircraft and aviation parts, which can bounce around from month to month. Excluding the volatile transportation sector, orders increased 0.6 percent in December.
Overall orders for durable goods, which are meant to last at least three years, have risen in four the last five months and were up 5.8 percent for the full year 2017, best in six years.
Still, a category that measures business investment — orders for nondefense capital goods excluding aircraft — dipped 0.3 percent in December.
American manufacturers are benefiting from a pickup in global economic growth and a weaker dollar, which makes U.S. goods less expensive in foreign markets.
Details:
The Commerce Department upgraded the November increase in durable goods orders to 1.7 percent from the 1.3 percent gain it originally reported.
Orders for computers dropped 4.4 percent, second straight monthly drop.
Machinery orders rose 0.6 percent last month after being flat in November.
Orders for cars, trucks and auto parts rose 0.4 percent, decelerating after gains of 2 percent in November and 1.5 percent in October.