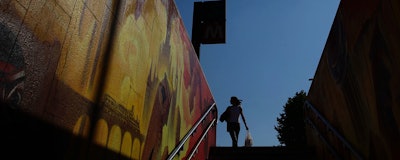 LONDON (AP) — The economy of the 19-country eurozone has just enjoyed its best quarter for more than six years, according to a closely watched survey.
Though growth eased slightly in June, financial information firm IHS Markit said Friday that the eurozone's second quarter overall looks like it will be its strongest since the first three months of 2011. It expects quarterly growth to be 0.7 percent, up from the previous quarter's 0.6 percent.
The firm said its composite purchasing managers' index, a broad gauge of economic activity across the eurozone's manufacturing and services sectors, dipped to 55.7 points in June from 56.8 the previous month. Despite the decline, which was more than anticipated in the markets, the index remains way above the 50 level that marks expansion.
"The latest reading needs to be looked at in the context of recent elevated levels," said Chris Williamson, IHS Markit's chief business economist.
The survey, which informs the regular policy discussions at the European Central Bank, is the latest in a long line of evidence showing that the eurozone has moved up the gears over the past few months, amid growing confidence about the future.
That was evident too in official French figures showing that the eurozone's second-largest economy expanded by 0.5 percent in the first quarter, up from the previous estimate of 0.4 percent. Hopes are high that growth in France, a long-time laggard, will be even higher over the rest of the year. The pick-up in confidence was clear in the fact that capital investment rose pretty sharply in the first quarter and that it was due to private companies and households, not the French state.
Higher French growth should help job creation, one of the key concerns of the new French government of President Emmanuel Macron. Unemployment in France has been falling but remains high at 9.5 percent.
According to IHS Markit, the signs are good for further job gains both in France and the wider eurozone. Its survey found that job creation in the eurozone remained at a near decade-high as order books and business confidence were strong. Eurozone unemployment has been steadily falling and in April was at an eight-year low of 9.3 percent.
"Factory jobs growth remained particularly buoyant, thanks in part to production requirements surging higher on the back of rising exports," Williamson said.