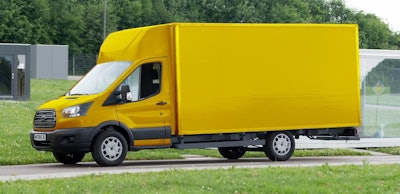 German parcel service Deutsche Post plans to deliver packages with the help of an electric vehicle partnership with Ford, the companies announced last week.

The agreement between Deutsche Post subsidiary StreetScooter — which already produces electric trucks and scooters for the company — and Ford's German subsidiary Ford-Werke would develop a larger vehicle based on the chassis used in Ford Transit cargo vans.

Production is expected to start next month and will eventually establish the largest manufacturing operation in Europe for battery-electric medium-duty delivery vehicles.

By the end of next year, Deutsche Post officials expect at least 2,500 larger electric vehicles to support its urban delivery operations.

"It will relieve the inner cities and increase the people's quality of life," said Deutsche Post executive board member Jürgen Gerdes. "We will continue working on completely carbon neutral CO2-neutral logistics."
Ford officials added that the project will bolster its position as the top commercial vehicle provider in Europe.

"E-mobility and innovative traffic solutions for urban areas are key focuses for us as we transform our business to meet future challenges," said Ford Europe, Middle East and Africa president Steven Armstrong.