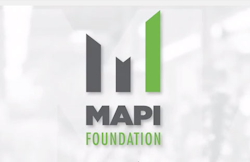 The U.S. global trade deficit in manufactures rose substantially in the third quarter and despite some moderation in Chinese trade, the gap between the two countries continues to widen, according to an analysis from the MAPI Foundation, the research affiliate of the Manufacturers Alliance for Productivity and Innovation.
In the report, Ernest Preeg, Ph.D., MAPI Foundation senior advisor for international trade and finance, notes that the U.S. deficit increased by 16 percent, or $24 billion, in the third quarter compared with 2014, following the 19 percent growth in the first half of the year. Preeg estimates a trade-related job loss of 150,000 American manufacturing jobs in the third quarter, headed toward 600,000 for the year.
The Chinese trade surplus was basically flat, up only 1 percent in the third quarter on a year-over-year basis, after rising 14 percent in the first half of the year. Exports were down by 6 percent and imports down by 12 percent. For the year, however, Preeg sees the Chinese surplus again approaching, or surpassing, $1 trillion.
The U.S. bilateral deficit with China nonetheless continued to advance by 12 percent, or $12 billion, in the third quarter, accounting for 64 percent of the global U.S. deficit, with U.S. imports of manufactures from China 6.4 times larger than exports to China.
The report also includes a section on U.S. trade with the 11 other participants in the TPP trade agreement.
"Seventy-six percent of U.S. exports to the 11 other TPP participants during the first three quarters went to NAFTA and only 21 percent, or $84 billion, to the seven Asian participants, a quite small 10 percent share of U.S. global exports," Preeg notes. "U.S. trade in manufactures with the four Western Hemisphere TPP participants was in surplus by $4 billion, compared with a $77 billion deficit for the Asian nations, of which 78 percent was with Japan."