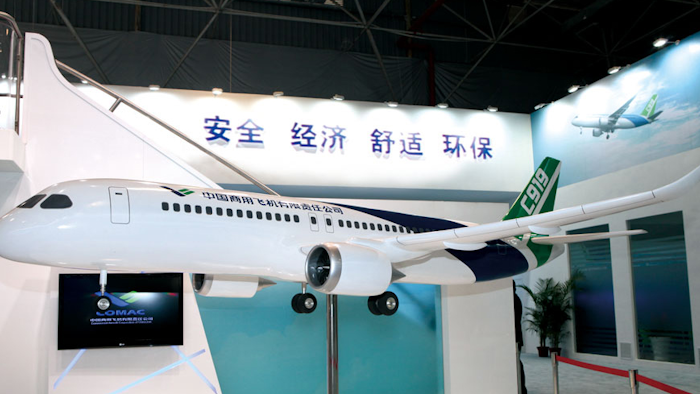 China's state-owned aviation company on Monday showcased a new jet aimed squarely at aerospace titans Boeing and Airbus.
The Commercial Aircraft Corporation of China — or Comac — unveiled the C919 in a ceremony at its Shanghai factory. The C919 project launched in 2008 and, after a series of delays, is China's first large passenger jet produced domestically since an ill-fated attempt in the 1980s.
The jet is a twin-engine, narrow-body jet that can seat up to 174 passengers — comparable to the Boeing 737 and Airbus 320.
State media reportedly touted the plane as "complete Chinese intellectual property," including advanced avionics and a frame partly comprised of lightweight composite material. CNN, however, reports that many of the jet's components were, in fact, sourced overseas.
Comac officials said they received 517 orders to date for the new jet, primarily from domestic airlines. Foreign sales remain hampered because the U.S. Federal Aviation Administration has yet to certify the new jet.
The aircraft is expected to fly for the first time next year and begin commercial use following three years of test flights.
Comac also plans to make a wide-body jet in an effort to acquire more of the aviation market — long dominated by Chicago-based Boeing and France-based Airbus — and the Chinese government eventually hopes to involve dozens of companies and universities in a nationwide aerospace sector.
Observers expect that the rapidly growing Chinese aviation industry will need thousands of new passenger jets in coming decades. Comac expects to sell about 2,000 over the next 20 years, while Boeing and Airbus recently inked multi-billion dollar deals to sell hundreds of planes in China.