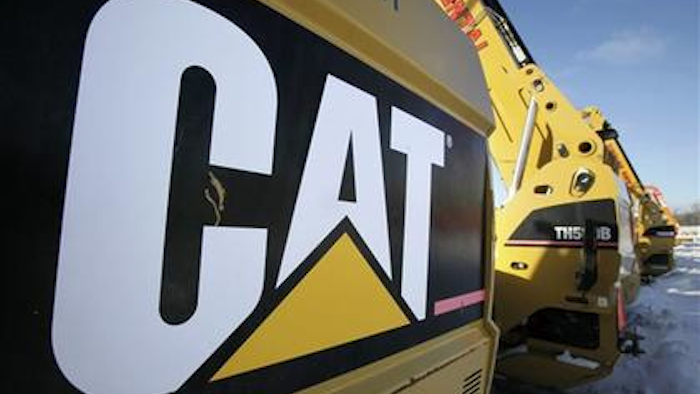 PEORIA, Ill. (AP) — Caterpillar was stung by ongoing weakness in the mining and oil and gas industries during the third quarter and revenue fell short of expectations.
The construction and mining equipment maker lowered its full-year earnings forecast with expectations that the costs of restructuring the company will rise sharply.
Shares fell more than 2 percent before the opening bell Thursday.
Last month Caterpillar announced another round of job cuts that could exceed 10,000 people through 2018. The company said that it would cut as many as 5,000 people mostly by the end of this year from its salaried and management workforce. It then could cut thousands more, raising the total above 10,000, as it figures out which factories and manufacturing sites to close through 2018.
Caterpillar makes diesel and natural gas engines, industrial gas turbines and diesel-electric locomotives, aside from construction and mining equipment. Several sectors that it serves have been afflicted by problems beyond the company's control.
Quarterly revenue fell from $13.55 billion last year to $10.96 billion, well short of $11.11 billion that Wall Street was looking for, according to a survey by Zacks Investment Research expected .
Machinery, energy and transportation sales dropped in the period, as did revenue for the financial products segment.
Caterpillar said that its total revenue decline was mostly due to lower sales volume and the impact of the stronger dollar. Sales dropped 31 percent in Latin America and fell 25 percent in the Asia Pacific region. North American sales slipped 17 percent.
For the three months ended Sept. 30, Caterpillar earned $368 million, or 62 cents per share. A year earlier it earned $1.02 billion, or $1.63 per share.
Excluding restructuring costs, earnings were 75 cents per share, which was in line with analyst projections.
For the year, Caterpillar now anticipates an adjusted profit of about $4.60 per share. Its prior guidance was for $5 per share. The Peoria, Illinois, company now foresees 2015 restructuring costs of approximately $800 million, compared with a prior forecast of about $250 million.
It maintained its outlook for 2015 revenue of approximately $48 billion.
Analysts surveyed by FactSet are looking for 2015 earnings of $4.63 per share on revenue of $48.06 billion.
The company said that it expects 2016 revenue to be about 5 percent lower than 2015, partly due to a weak economic outlook in the U.S. and Europe. The forecast also accounts for China's slowdown, Brazil's recession and ongoing weakness in commodity prices.
Shares of Caterpillar Inc. declined $1.27 to $68.40 before the market opened.