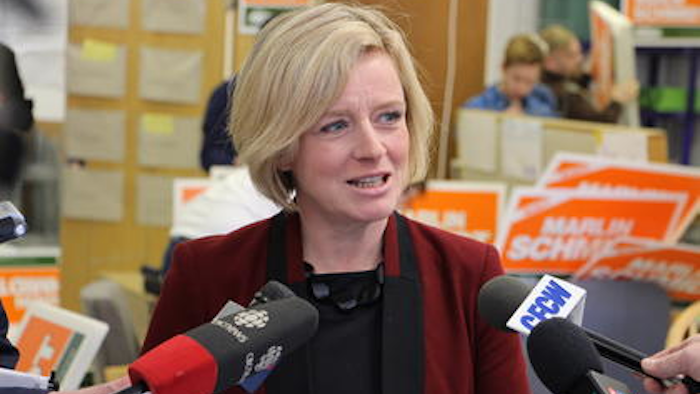 The leader of Canada's most oil-rich province later this year plans to unveil an energy policy focused heavily on renewable sources.
Alberta Premier Rachel Notley last year led a liberal takeover of the provincial government after more than four decades of conservative leadership.
The New Democratic Party vowed to invest in education and health care — and increase taxes on corporations and wealthy Albertans. Notley also opposed controversial energy projects such as the Keystone XL pipeline.
In an interview with The Guardian this week, Notley offered an early preview of her energy plan, which will be issued ahead of a December UN climate change conference in Paris.
She said the proposal would seek to clean up the Alberta Tar Sands, one of the largest such deposits in the world and a source of Canada's energy boom in recent years.
The boom, however, is in jeopardy — particularly in Alberta — amid continued low oil prices.
Notley also said that the plan would close coal-fired power plants and bolster wind and solar power.
The premier said that she hopes to continue to develop Alberta's energy industry "carefully and responsibly" because of its massive workforce in the province.
But she added, "I don't think we are defined by energy."
"Do I see that as our reason for being 100 years from now?" Notley told The Guardian. "Well, I hope we will have learned a lesson of diversification by then."
The policy is likely to be met with opposition by the administration of Prime Minister Stephen Harper. Notley, during a jaunt to Montreal, New York and Toronto this week, also indicated her support for the opposition NDP's climate change plan, which includes a carbon cap-and-trade system.
She did argue, however, that revenues collected from polluters in Alberta should stay within the province.
"As far as I'm concerned, it's critically important for our economy that we diversify our energy markets," Notley said in Toronto.