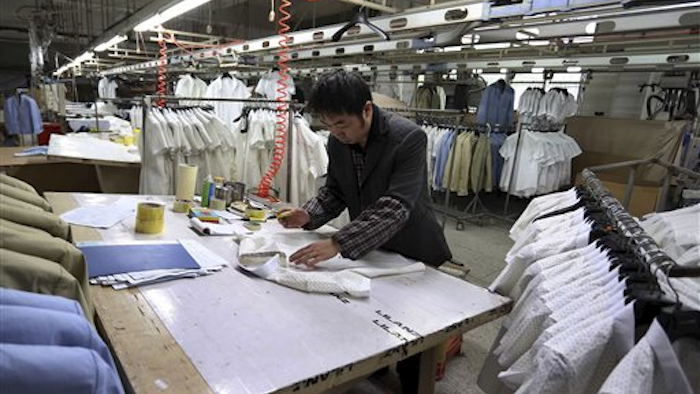 Beijing, China — China's manufacturing activity improved in February for the first time in four months but export demand weakened, a survey released Monday showed.
HSBC's manufacturing index based on a survey of factory purchasing managers rose to 50.7 from January's 49.7. It uses a 100-point scale on which numbers above 50 show activity increasing.
On Saturday, Beijing cut interest rates for a second time in three months in a sign of official worry that China's economic slowdown is deepening too abruptly.
The HSBC survey, conducted by Markit Economics, found growth in output and total new orders accelerated but new export business declined for the first time in 10 months.
Input costs fell, adding to the possibility that already low inflation could tumble into a potentially dangerous bout of deflation.
Consumer inflation fell to just 0.8 percent in January. Wholesale inflation has been in negative territory for two years due to excess production capacity in many industries that has led to price-cutting competition.
Companies reported "the strongest expansion of output since last summer while total new business also rose at a faster rate," said Markit economist Annabel Fiddes in a report.
Export orders fell for the first time in 10 months.
"The renewed fall in new export orders suggests that foreign demand has weakened," said Fiddes. "Meanwhile, marked reductions in both input and output prices indicated that deflationary pressures persist."
A separate purchasing managers index released Sunday by a Chinese industry group showed manufacturing activity improved in February but still was contracting.
The China Federation of Logistics and Purchasing PMI edged up to 49.9 after falling to a 28-month low of 49.8 in January.