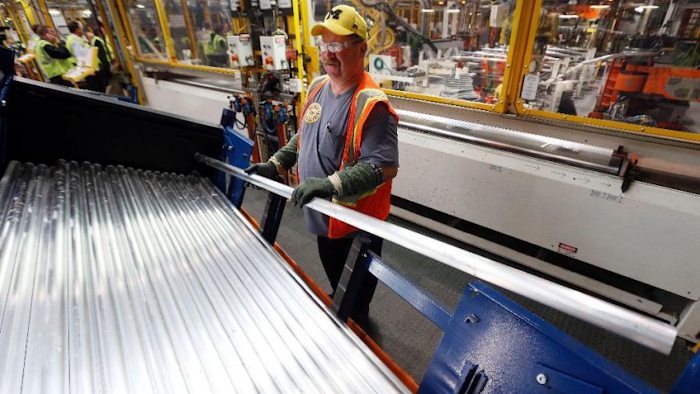 WASHINGTON (AP) — U.S. producer prices fell slightly in December, reflecting a big drop in energy prices. The decline capped a year in which prices at the wholesale level fell, underscoring the continued absence of inflationary pressures.
The Labor Department said Friday that its Producer Price Index, which measures inflation before it reaches consumers, dropped 0.2 percent in December after a 0.3 percent increase in November. Over the past 12 months, producer prices have declined 1 percent.
Core inflation, which excludes volatile food and energy costs, edged up a slight 0.1 percent in December. For the past 12 months, core inflation at the wholesale level is up a scant 0.3 percent.
While the Federal Reserve raised a key interest rate last month, many economists say the absence of inflation pressures may delay future rate hikes.
For December, energy prices at the wholesale level dropped 3.4 percent, the biggest decline since September when energy was down 5.6 percent. Wholesale food prices also fell in December, dropping 1.3 percent, the biggest monthly decline since last February.
The small 0.1 percent rise in core wholesale prices reflected increases in such areas as cigarette prices, which rose 2.1 percent, doctors' charges, which rose 1.3 percent.
Inflation at the consumer level has also been low this year with the Consumer Price Index up just 0.5 percent in the 12 months ending in November. And a price gauge favored by the Fed is up just 0.4 percent for the 12 months through November and shows a 1.3 percent gain when energy and food are excluded. That's well below the Fed's 2 percent target for inflation. It has been running below the 2 percent level for more than two years.
The central bank's quarter-point rate hike was the first Fed rate increase in nearly a decade and lifted its target for overnight bank lending from near zero to a rnage of 0.25 percent to 0.5 percent.
But Fed officials stressed that the pace of the future rate increases will be heavily dependent on the currently low level of inflation showing evidence of moving toward the Fed's 2 percent target.
On Thursday, James Bullard, president of the Fed's St. Louis regional bank, said in a speech that the latest big drop in energy prices could mean that it will take longer to get inflation back to the Fed's 2 percent target.
The fall in energy prices has meant more good news for consumers. The nationwide average for gasoline is now under $2 per gallon at $1.94, down about 8 cents in just the past month and 16 cents lower than a year ago.