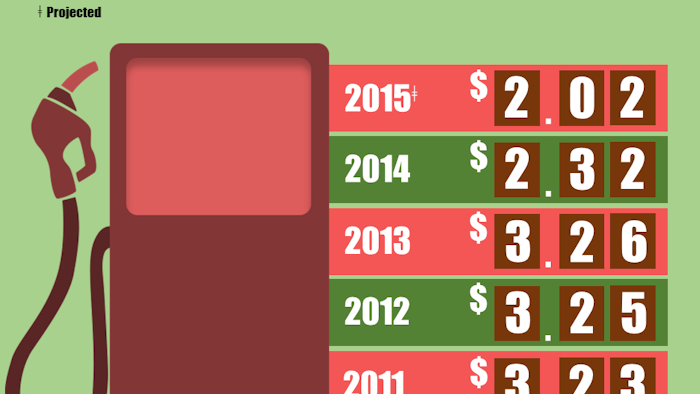 GAITHERSBURG, Md. – (Dec. 22, 2015) – GasBuddy, the authoritative voice on pump prices, projects that consumers will save $1.6 billion on gas over their year-end travels compared to last year.* According to the annual GasBuddy holiday travel survey, 88% of those heading out of town will be doing so by car, with a majority (66%) driving at least 200 miles round trip.
It wasn't that long ago when motorists were paying well over $3 per gallon during the winter months, a far cry from today's national average of $2.01, which has risen after hitting $1.99. Gas prices during the holidays haven't been this cheap since 2008, when few Americans noticed the low prices amidst the Great Recession.
"It's beginning to look a lot like Christmas…in 2008!" said Patrick DeHaan, senior petroleum analyst at GasBuddy. "The extra savings and cheer will certainly spread as we close out the year. There has not been a better time in years for motorists to extend their trips and travel farther, as sub-$2 per gallon gas can be found at almost 70% of stations in the country."
The national average is likely to tick slightly higher throughout the busiest travel period of the year as prices have moved higher in the Great Lakes and continue to climb in California. However, GasBuddy expects this upward trend to be temporary; lower prices will eventually hit pumps into the New Year as oil prices drift lower thanks to weakening demand for petroleum.
GasBuddy 2015 Travel Survey Key Findings:
Home for the holidays, no matter the cost. When it comes to holiday travel, money does not always dictate what people decide to do. Only 19% of survey respondents said current fuel prices are changing or altering their holiday travel plans. Of course that's easy to say this year, given we're seeing the lowest prices in over six years.
What to do with the extra cash? For those who said the drop in gas prices have impacted their travel plans, nearly half (49%) said they will be traveling a greater distance, while 23% said they will be spending more on holidays gifts, and 11% will be spending more on food.
Traffic: the leading cause of holiday stress. Nearly half of consumers find the holidays to be stressful, with traffic being the biggest reason (80%), followed by the weather (56%), and the extra cost involved (42%).
To find the cheapest gas station near you, download the free GasBuddy app or visit www.gasbuddy.com.
* Year-end travel is defined as Dec. 23, 2015 - Jan 3, 2016