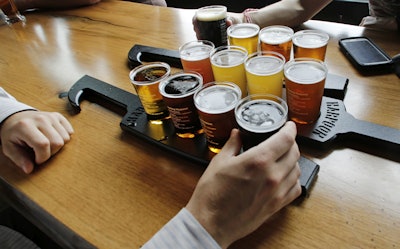 U.S. hop growers saw a double-digit increase in production last year amid a spike in demand from craft brewers.

The Pacific Northwest accounts for about one-third of the world's supply of the flower, which is used to stabilize and add flavor to beer — particularly for the nation's burgeoning craft sector.

The U.S. Agriculture Department's National Agricultural Statistics Service said that 78.8 million pounds of hops were produced in Washington, Oregon and Idaho this year, up 11 percent compared to 2014 totals.

Washington State, which produces 75 percent of the nation's hop harvest, saw a 6 percent increase, while Oregon and Idaho saw their harvests increase by 30 percent and 26 percent, respectively.

All three states also saw double-digit increases in hop acreage this year, which helped decrease the yield from 1,868 pounds per acre last year to 1,807 pounds per acre this year.
Growers achieved sharply higher production despite low winter snowpack levels and an early-season heat wave.

"Considering those challenges and the amount of first-year plants in the ground which have smaller yield, we are pleased with the final count and looking forward to next year," Hop Growers of America Executive Director Ann George told the Salem (Ore.) Capital Press.

Hops drew record-high prices in 2015, and the preliminary value of the overall crop was up 33 percent in 2015. Analysts in part attributed the price increase to stronger demand from craft brewers, which led growers to switch to higher-value varieties of hops.

A drought in Europe, meanwhile, also helped growers in the U.S. George said that Germany, which produces another third of the world's hops, saw its production fall by 26 percent.