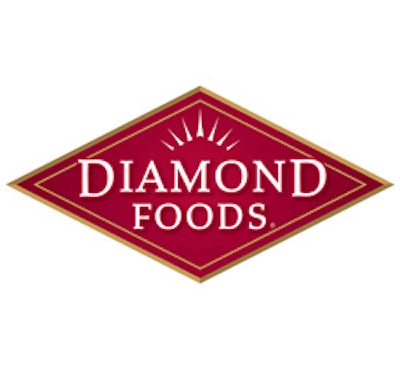 NEW YORK (AP) — Shares of Diamond Foods Inc. rose Monday after investment firm BlackRock disclosed that it purchased a stake in the maker of Emerald nuts, Pop Secret popcorn and Kettle chips.
THE SPARK: BlackRock said in a filing with the Securities and Exchange Commission on Friday that it purchased a 7.85 percent stake in Diamond Foods.
THE BIG PICTURE: Diamond Foods, based in San Francisco, has been struggling with the impact of its past accounting practices. The company disclosed in 2011 that an internal investigation found that it improperly accounted for payments to walnut growers, which skewed its financial results. As a result Diamond had to restate financial results for two years, which effectively wiped away $56.5 million of profits.
In the meantime, its stock price sank and it lost its bid to buy the Pringles brand from Procter & Gamble Co. The company also eventually replaced its CEO and chief financial officer over the accounting matter.
CEO Brian Driscoll, who previously worked at the now bankrupt Hostess Brands, joined the company last year and has said he will invest in the company's brands, cut costs and rebuild its walnut supply.
SHARE ACTION: Diamond's shares were up $1.62, or 11 percent, at $16.03.