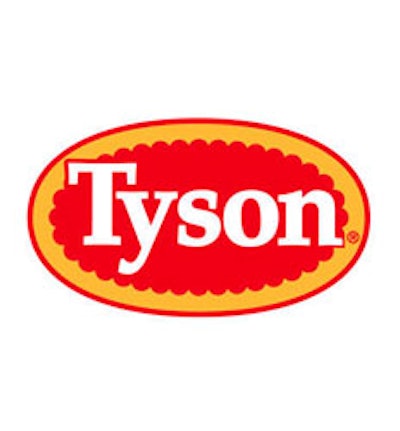 SPRINGDALE, Ark. (AP) — Tyson Foods' second-quarter net income dropped 42 percent as it contended with additional feed costs in its chicken unit and reduced margins in its beef division. The company's biggest meat company cut its full-year revenue forecast.
Shares fell 6 percent in premarket trading on Monday.
The second quarter is traditionally the most difficult for Tyson Foods Inc. It had cautioned in February that its fiscal second quarter had been tougher than expected because of lower margins in its beef and pork divisions.
President and CEO Donnie Smith said in a statement that the chicken segment raised prices to help offset $165 million in additional feed costs. The beef unit dealt with lower margins as shoppers tended to buy chicken instead because it was cheaper, and the prepared foods unit contended with weak food service demand. In the pork division, there were times with supply and demand were not in balance due to the loss of some export markets.
For the three months ended March 30, Tyson earned $95 million, or 26 cents per share. That's compared with $166 million, or 44 cents per share, a year earlier.
Excluding an impairment charge and a currency translation adjustment gain, earnings were 36 cents per share.
Analysts expected earnings of 45 cents per share, according to a FactSet survey.
Tyson's stock fell $1.52, or 6.1 percent, to $23.41 about an hour before the market opening.
Revenue increased 2 percent to $8.42 billion from $8.27 billion. Wall Street was looking for higher revenue of $8.59 billion.
Chicken and beef sales climbed in the quarter, while sales of pork and prepared foods fell.
The Springdale, Ark. company now anticipates fiscal 2013 revenue of approximately $34.5 billion, down from a prior outlook of about $35 billion. Analysts forecast $34.48 billion in revenue.