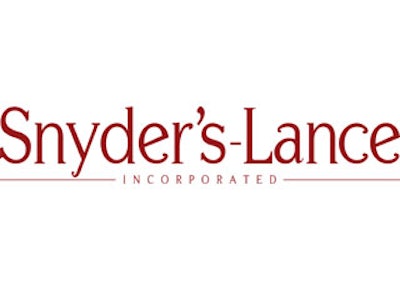 CHARLOTTE, N.C. (PRNewswire) — Snyder's-Lance, Inc. reported results for its first quarter of 2013.  Net revenue for the first quarter ended March 30, 2013 was $419 million, an increase of 6.5% compared to prior year net revenue of $393 million.  Net income was $19.8 million for the first quarter of 2013, or $0.28 per diluted share, compared to net income of $14.2 million for the first quarter of 2012 or $0.21 per diluted share.  There were no special items in the first quarter of 2013.  Net income excluding special items in the first quarter of 2012 was $11.4 million, or $0.17 per diluted share.  Special items for the first quarter of 2012 included after-tax gains of $4.9 million on the sale of routes as well as after-tax expenses of $2.1 million for merger related items.
Comments from Management   
"We are pleased with our overall performance in the first quarter of 2013, and are proud of the progress we've made toward making Snyder's-Lance a premium, differentiated leader in snack foods," commented Carl E. Lee, Jr, President and Chief Executive Officer. "The first quarter was focused on getting Pretzel Crisps® off to a great start, expanding our margins and improving our retail execution. Sales growth continues to be driven by our core brands which together were up 23% for the quarter excluding the impact of last year's independent business owner (IBO) distributor conversion.  Core brand sales growth excluding acquisitions and the IBO impact was 6.3%.  Branded sales growth continues to be a top priority, and we gained market share in all four of our core brands (Snyder's of Hanover ® pretzels, Lance® sandwich crackers, Cape Cod ® kettle chips and Pretzel Crisps®). With our team's focus, operating margins expanded to 8.1% in the first quarter, helped by improved manufacturing efficiencies, retail price improvements on certain products and more efficient promotional spending. Our recent acquisition of the fast growing Snack Factory® Pretzel Crisps® brand is proving to be a real positive for Snyder's-Lance.  Our team has done a great job of supporting this exciting new core brand that raises the bar for innovation and product quality.  This product line has strengthened our branded portfolio, helping us to drive increased branded revenue in the first quarter and positively impacting profits."
Mr. Lee continued, "Starting in the second quarter, we'll increase our investment in marketing and advertising to drive sales.  Consistent with our strategic plan, advertising efforts will focus on our core brands while our marketing efforts will support our broader portfolio.  The majority of this activity will occur during the second and third quarters of 2013, leading to additional revenue growth in the back half of the year.  We believe our strategic plan is solid, and it guides our decisions and focus every day.  I'm very excited about the future, and want to thank everyone at Snyder's-Lance for their continued commitment and dedication to our success." 
Dividend Declared  
The Company also announced the declaration of a quarterly cash dividend of $0.16 per share on the Company's common stock.  The dividend is payable on May 30, 2013 to stockholders of record at the close of business on May 22, 2013.
2013 Estimates  
The Company has maintained its estimates for the full year 2013.  The Company estimates that its net revenue for the full year 2013 will be up 10% to 12% and earnings per diluted share will increase between 22% and 32%, excluding special items, compared to 2012.  Capital expenditures for 2013 are projected to be between $78 and $83 million.