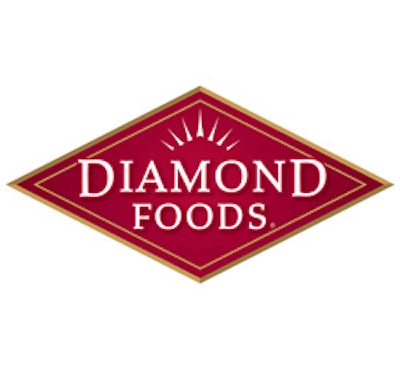 (AP) — Diamond Foods Inc. on Tuesday reported a better-than-expected fiscal third quarter and appointed a new Chief Financial Officer.
The San Francisco snack food company said that Raymond Silcock will be its executive vice president and chief financial officer. Silcock, 62, was most recently CFO of the Great Atlantic & Pacific Tea Co., the privately held parent company of the A&P grocery chain.
He replaces Michael Murphy, who was interim chief financial officer of the snack food company since 2012 when its prior CFO and CEO left Diamond following disclosure of an accounting problem over payments to walnut growers. The improper payments severely damaged the company, butchered its stock price and forced Diamond to restate a number of financial reports. It also derailed Diamond's purchase of the Pringles snack.
Diamond, which sells snacks like Kettle Chips, Emerald nuts and Pop Secret popcorn, also reported better-than-expected fiscal third-quarter results.
Diamond posted a loss of $15.6 million, or 71 cents per share, for the quarter that ended April 30. That compares with a loss of $44 million, or $2.02 per share, last year. After adjusting for plant closure, legal expenses and other unusual items, it earned 5 cents per share.
Net sales decreased by 11 percent to $184.9 million. Snack sales helped offset a 23 percent drop in nut sales.
Analysts polled by FactSet, on average, expected a loss of 17 cents per share on revenue of $175.1 million.
Diamond reiterated that it expects sales will decline more in the last half of the fiscal year than in the first half, due in part to weaker nut sales.
The company also restated its per-share results for the second fiscal quarter, saying they did not accurately reflect a gain associated with a warrant. The loss was 37 cents per share for the quarter versus its previously stated 43 cents per share earnings.
Jefferies analyst Thilo Wrede said the company is making progress, evident in the third-quarter beat and the new CFO appointment. But the analyst still does not believe that Diamond has reached its turnaround point. The company is still struggling with weaker sales and there are few new products in the pipeline to entice consumers. Additionally, he said, the company is still working to resolve walnut supply issues and heavy interest expenses.
Diamond shares rose $1.77, or 10.1 percent, to $19.33 in midday trading. The stock has traded in a 52-week range of $12.85 to $21.19.