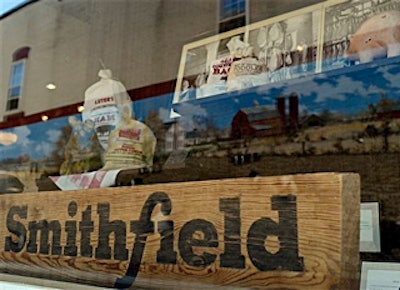 RICHMOND, Va. (AP) — Pork producer Smithfield Foods says its net income fell nearly 63 percent in the fourth quarter as it experienced lower hog prices, higher feed costs and a decline in exports to China and Russia.
The results come amid the company's pending $4.72 billion takeover by the majority shareholder in China's largest meat processor.
The Smithfield, Va.-based company, whose brands include Armour, Farmland and its namesake, said Friday it earned $29.7 million, or 21 cents per share, for the period ended April 28. That's down from $79.5 million, or 49 cents per share, a year ago, when its results included a $16.8 million benefit from insurance reimbursements.
Smithfield Foods Inc. reported revenue rose 3 percent to $3.3 billion.
Analysts expected earnings of 42 cents per share on revenue of $3.27 billion.