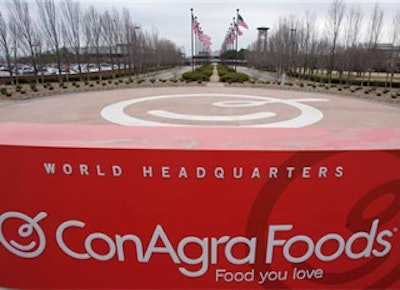 NEW YORK (AP) — A Citi analyst added food maker ConAgra Foods Inc. to his "Top Picks" list, noting the recent drop in stock price and potential for profit growth down the road.
THE OPINION: David Driscoll, who also backed his "Buy" rating for the stock, noted that ConAgra's share price has fallen 7.5 percent from its May high, largely as a result of profit-taking following a 34 percent increase in the company's share price over the past year.
He added that investors also have been somewhat concerned about ConAgra's ability to integrate its recent acquisition of private-label food maker Ralcorp Holdings Inc.
Driscoll said the company, whose brands include Chef Boyardee and Marie Callender's, could post better than expected fourth-quarter results. He noted that his analysis shows that ConAgra's branded food businesses are "performing very well" for the quarter, while the Ralcorp assets are performing about as expected.
The analyst also said that the projected boost ConAgra expects to get from Ralcorp in fiscal 2014 still looks conservative. He said the acquisition could add as much as 39 cents per share to that year's profits, significantly more than the 25 cents per share the company expects.
THE SHARES: Down 74 cents to $32.88 in afternoon trading amid a broad market sell-off. Over the past 52 weeks, ConAgra's shares have traded between $23.64 and $36.31.