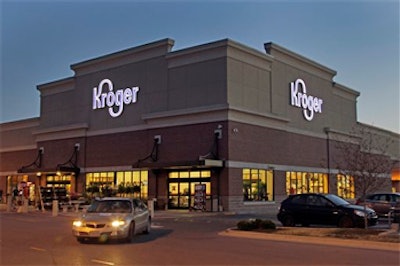 NEW YORK (AP) — Kroger says its customers are doing more of their shopping at its supermarkets, helped in part by the popularity of its store brands.
The country's largest traditional supermarket operator on Thursday raised its profit outlook for the year after reporting a higher quarterly net income that beat Wall Street expectations, although overall sales were shy of forecasts.
The Cincinnati-based company, which also owns Ralphs, Fry's and Food 4 Less, said sales at stores open at least a year rose 3.3 percent during the period, excluding fuel. The figure is a key metric because it strips out the impact of newly opened and closed locations.
The growth comes as Kroger and other traditional supermarket companies are working to adapt to a shifting industry. Shoppers are increasingly getting their groceries at big-box retailers like Target, drugstores and even dollar stores that have expanded their food sections.
The competition has taken its toll on some supermarket operators; SuperValu earlier this year sold off five of its major chains after struggling for years to fix its business.
But Kroger has been trying to keep pace in a variety of ways.
To improve the shopping experience, the company worked on shortening wait times at its checkouts, expanded its store-brand lineup and invested in making its loyalty program more sophisticated. It's also experimenting with different store formats that are more akin to big-box retailers and dollar stores.
In a conference call with analysts, Chief Operating Officer Rodney McMullen said shoppers made more trips to stores and bought more per visit during the quarter.
He also noted that Kroger's store brands now account for 26 percent of total units sold and 24 percent of total sales, excluding pharmacy and fuel.
Kroger and other retailers have been pushing their store brands more aggressively as a way to control their costs and fatten profit margins. McMullen noted that once customers try store brands, they don't really go back to name-brand products.
"Very seldom does the share go back to where it was," he said, noting that the loss brand names suffer is generally permanent.
Going forward, the company noted that it has "many contracts" with workers in local markets that have expired or will expire soon. It noted that it continues to be pressured by rising health care and pension costs, which many of its competitors do not have to deal with. That's because workers at big-box retailers aren't unionized.
For the quarter, The Kroger Co. earned $481 million, or 92 cents per share. That's compared with $439 million, or 78 cents per share, a year earlier.
Total revenue rose 3 percent to $30.04 billion.
Analysts on average expected a profit of 88 cents per share on revenue of $30.1 billion, according to FactSet.
Citing its stronger first-quarter results, Kroger increased its net earnings guidance for the year to a range of $2.73 to $2.80 per share, up from $2.71 to $2.79. It has said it expects a growth rate of 8 percent to 11 percent, helped in part by its plans to move into new markets.
Sales at established stores are still expected to grow between 2.5 percent and 3.5 percent for the year.
Shares were down 5 percent at $33.24 amid a broader market decline.