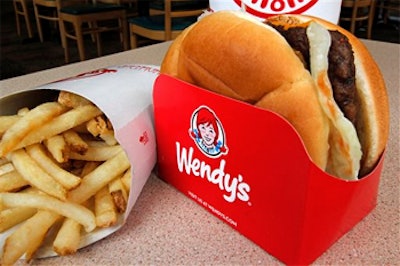 This Monday, May 6, 2013, photo shows a Wendy's single with cheese large combo meal at a Wendy's restaurant in Mt. Lebanon, Pa. The Wendy's Co. reports quarterly financial results before the market opens on Tuesday, July 23, 2013. (AP Photo/Gene J. Puskar)
NEW YORK (AP) — Wendy's reported a quarterly net income that came in above Wall Street expectations and said it's selling 425 of its restaurants to franchisees, a move that's expected to help boost its profit margins.
Fast-food companies often own only a small percentage of their restaurants. This helps keep their operating costs in check and gives them a more stable stream of income that's tilted toward royalty fees and rent, rather than sales at restaurants.
Wendy's, based in Dublin, Ohio, also raised its dividend by 25 percent to 5 cents per share. Its stock shot up 8 percent to $7.21 in premarket trading.
CEO Emil Brolick said in a statement that the sale of the restaurants will also help expand adoption of the company's new restaurant designs. That's because Wendy's plans to sell the restaurants to "well-capitalized" franchisees willing to pay for the remodeling.
The sleeker new look is part of Wendy's push to try to distance itself from the greasy, cheap image of traditional fast-food chains. By cleaning up its stores and offering more premium burgers and sandwiches, Wendy's is hoping to recast itself more in the style of Panera Bread or Chipotle, which tend to charge higher prices.
But during the quarter, Wendy's said sales edged up just 0.4 percent at company-owned restaurants open at least a year in North America. By comparison, McDonald's said on Monday that its sales rose 1 percent in the U.S.
For the year, Wendy's said it expects the sales figure to grow between 2 percent and 3 percent, given its expectation for stronger sales in the second half of the year. That optimism may be fueled by the recent introduction of its Pretzel Bacon Cheeseburger, which has generated plenty of buzz online.
The company says the sale of its restaurants will reduce its ownership to 15 percent of its locations, from 22 percent. It said it now expects long-term adjusted earnings-per-share growth in the mid-teens percentage range starting next year. Previously, it had forecast single-digit to double-digit growth.
Wendy's says it earned $12.2 million, or 3 cents per share. That compares with a loss of $5.5 million, or 1 cent per share, a year ago.
Not including one-time items, it earned 8 cents per share, more than the 6 cents per share Wall Street expected.
Revenue rose to $650.5 million, short of the $659.5 million analysts expected.