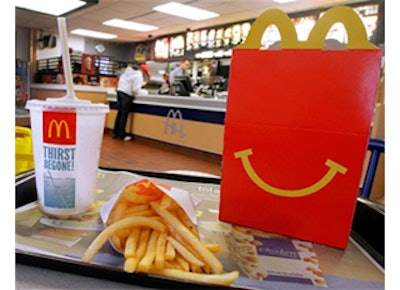 In this Jan. 20, 2012 photo, the McDonald's logo and a Happy Meal box with french fries and a drink are posed at McDonald's, in Springfield, Ill. McDonald's Corp. reports quarterly earnings on Monday, July 22, 2013. (AP Photo/Seth Perlman)
NEW YORK (AP) — McDonald's is mixing up its menu with healthier, fresher sounding items such as its chicken McWraps, but not enough customers are biting.
The world's biggest hamburger chain on Monday reported a second-quarter profit that rose 4 percent but fell short of Wall Street expectations. It also said July sales are expected to be relatively flat and warned of a tough year ahead.
Its stock was down more than 2 percent at $98.05 in premarket trading. Over the past year, its stock is up 13 percent.
The company, which is based in Oak Brook, Illinois, and has more than 34,000 locations worldwide, says global sales edged up 1 percent at restaurants open at least a year for the three months ended June 30. The figure rose by the same amount in the U.S., where the company has been touting its Dollar Menu and trying to adapt to changing eating habits with items such as its veggie-filled chicken wraps and egg-white breakfast sandwiches.
But the tepid growth in the latest quarter reflects the challenges facing McDonald's Corp., which for years had been a standout in the fast-food industry. Part of the problem is that economic conditions remain weak in many parts of the world. But another factor is that dining habits are changing, particularly in the U.S., with people increasingly opting for foods they feel are fresher, healthier or higher-quality.
Last week, for example, Chipotle Mexican Grill reported that sales rose 3.4 percent at restaurants open at least a year for the same period. The figure is a key metric because it strips out the impact of newly opened and closed locations.
In addition to such newer chains that offer food that's a step up from traditional fast-food for slightly higher prices, McDonald's is facing stiffer competition from its traditional rivals. Burger King and Wendy's have been revamping their menus under new management, while Taco Bell, owned by Yum Brands Inc., has gotten a big boost from its Doritos-flavored tacos.
Looking ahead, McDonald's said its initiatives in the U.S. are "designed to satisfy evolving customer expectations."
McDonald's CEO Don Thompson, who took over last summer, has said that the company has a bigger product pipeline than in the past. Thompson has said McDonald's can capitalize on ideas from around the world and adapt them to other markets.
But for the first three months of the year, the company reported its first global quarterly sales decline at restaurants open at least 13 months.
For the latest quarter, the company said sales were down 0.1 percent in Europe as results in Germany and France dragged down results from the United Kingdom and Russia.
In Asia, the Middle East and Africa, sales also dipped 0.3 percent, primarily because of negative results in China, Australia and Japan.
For the quarter, the company earned $1.4 billion, or $1.38 per share. That's up from $1.35 billion, or $1.32 per share, a year ago.
Earnings were short of the $1.40 analysts expected.
Revenue rose to $7.08 billion, in line with expectations, according to FactSet.