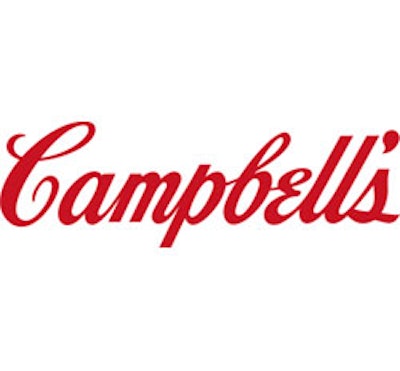 CAMDEN, N.J. (AP) — Campbell Soup posted a loss for its fiscal fourth quarter, stung by a charge related to the potential sale of its European simple meals business.
Its earnings adjusted for the charge and other unusual items topped Wall Street's estimates, but revenue missed analysts' expectations. Its shares fell in midday trading Thursday.
For the three months ended July 28, the soup maker lost $158 million, or 50 cents per share. That compares with a profit of $127 million, or 40 cents per share, a year ago.
Stripping out the 89 cents per share in charges tied to the European simple meals business and other items, earnings were 45 cents per share. Analysts, on average, expected earnings of 42 cents per share.
Earlier this month Campbell Soup said that it was in final negotiations to sell some of its European business to private equity firm CVC Capital Partners for an undisclosed sum.
Revenue for the Camden, N.J., company increased 20 percent to $1.82 billion from $1.52 billion, but fell short of the $1.84 billion Wall Street expected.
The stock dropped $1.42, or 3.2 percent, to $43.29 in midday trading. Its shares are near their 52-week high of $48.83 set on May 20. They traded as low as $34.28 last September.
Sales for soups, simple meals and sauces all rose in the U.S. during the quarter. Sales of simple meals were helped by higher prices. The acquisition of Plum Organics, which makes food for babies and kids, benefited both simple meals and sauces. Soup sales were driven by sales of ready-to-serve products which had new products such as "Campbell's Go" soups.
Another acquisition, Bolthouse Farms, contributed $185 million in sales. Bolthouse makes premium juices, salad dressings and baby carrots.
U.S. beverage sales declined 4 percent on lower prices and weaker sales of V8 vegetable juice, V8 V-Fusion juices and juice beverages and V8 Splash.
For the global baking and snacking unit, sales rose 3 percent on increased prices and double-digit growth in fresh bakery products. The division also reported strong sales of Pepperidge Farm Goldfish and cookies.
Sales for the international simple meals and beverages segment fell 7 percent on foreign currency exchange rates, lower prices and lower volume.
Campbell Soup Co. reported full-year earnings of $458 million, or $1.44 per share. In the previous year the company earned $774 million, or $2.41 per share. Adjusted earnings were $2.64 per share compared with $2.44 per share a year earlier.
Annual revenue climbed 12 percent to $8.05 billion from $7.18 billion.
For fiscal 2014, Campbell Soup anticipates adjusted earnings growth of 3 percent to 5 percent.