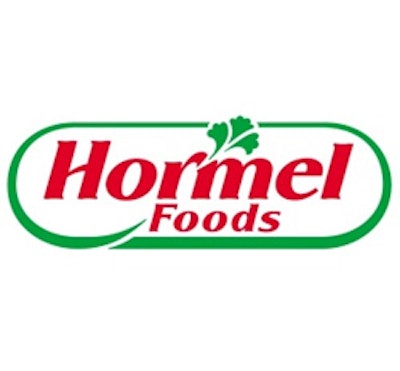 AUSTIN, Minn. (AP) — Hormel Foods Corp.'s fiscal third-quarter net income climbed 2 percent, driven by better sales across all segments at the maker of Spam canned ham and Dinty Moore stew.
The company, whose other brands include Skippy peanut butter and Jennie-O Turkey Stores, said Thursday that it earned $113.6 million, or 42 cents per share, for the quarter that ended July 28. That's up from $111.2 million, or 41 cents per share, a year ago.
Analysts, on average, expected earnings of 45 cents per share, according to a FactSet survey.
Revenue rose 8 percent to $2.16 billion from $2.01 billion, beating Wall Street's estimate of $2.12 billion.
Grocery products revenue increased 25 percent, benefiting from sales of Skippy products. Hormel Foods Corp. agreed to buy Skippy in January from Unilever for $700 million. Sales of Dinty Moore stew, Hormel Mary Kitchen hash and Hormel bacon toppings all improved.
For the refrigerated foods division, revenue edged up 2 percent on better sales of Hormel party trays, Hormel Natural Choice deli meats, Hormel Cure 81 hams, and food-service sales of Hormel Fire Braised meats and Hormel Pecanwood bacon. Jennie-O Turkey Stores revenue climbed 4 percent on increased sales of Jennie-O Turkey Store ground turkey chubs and turkey bacon.
Revenue for the specialty foods segment rose 5 percent thanks to higher sales of sweetener, nutritional products, ready-to-drink beverages and ingredients. In the international and other division, revenue surged 31 percent on stronger exports of Spam products and fresh pork, a better performance from its China operations and the addition of the Skippy export business.
The Austin, Minn., company still expects full-year earnings of $1.88 to $1.96 per share. Analysts are looking for earnings of $1.94 per share.