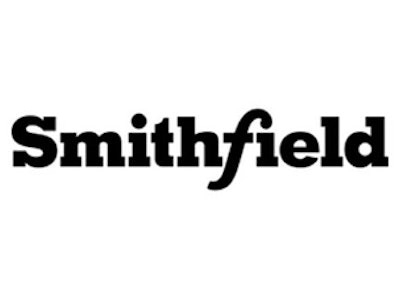 RICHMOND, Va. (AP) — Pork producer Smithfield Foods Inc. said Friday that its net income fell 36 percent in the first quarter as it experienced higher costs of raising hogs and a decline in exports to Japan, China and Russia.
The Smithfield, Va.-based company, whose brands include Armour, Farmland and its namesake, said Friday that it earned $39.5 million, or 27 cents per share, for the period ended July 28. That's down from $61.7 million, or 40 cents per share, a year ago, when its results included a $16.8 million benefit from insurance reimbursements.
Its revenue rose nearly 10 percent to $3.4 billion from $3.09 billion a year ago.
Analysts polled by FactSet expected higher earnings of 45 cents per share on lower revenue of $3.15 billion.
The results come amid the company's pending $4.72 billion takeover by the majority shareholder in China's largest meat processor.
Smithfield stock fell 7 cents to $33.89 per share in morning trading Friday. The takeover offer that Smithfield accepted was for $34 per share.
Like most pork producers, Smithfield has been caught in a tug of war with consumers. The company needs to raise prices to offset rising commodity costs, namely the corn it uses for feed. But consumers are still extremely sensitive to price changes in the current economy. By raising prices, Smithfield risks cutting into its sales should consumers cut back or buy cheaper meats, such as chicken.
The company said sales of packaged meats such as deli meats, bacon, sausage, and hot dogs, rose 11 percent during the quarter.
Smithfield said it experienced normal seasonal weakness of fresh pork and its decline in exports to key markets.
"The first quarter should mark the low point of the year for Smithfield," CEO C. Larry Pope said in a news release.
During the quarter, Smithfield's gross profit— the amount of sales left over after subtracting the cost of sales — fell more than 8 percent to $304.2 million as its cost of sales rose 12 percent to $3.09 billion. Selling, general and administrative expenses increased about 2 percent to $205.2 million.
The number of live hogs it sold rose about 6 percent. While the company saw higher hog prices, it spent more to raise them.
Pope said Smithfield will continue to execute its growth plan to move it further toward a consumer packaged meats company, including increasing marketing spending and focusing on product innovation.
In light of the company's pending buyout, Smithfield has discontinued investor conference calls to discuss its financial results.
Smithfield Foods, one of the biggest pork producers in the U.S., agreed in May to be bought by Shuanghui International Holdings Ltd. The deal, which still faces a federal regulatory review and Smithfield shareholder approval, is the largest takeover of a U.S. company by a Chinese firm, valued at about $7.1 billion, including debt.
Smithfield's stock will no longer be publicly traded once the deal closes, which is expected by the end of the year.