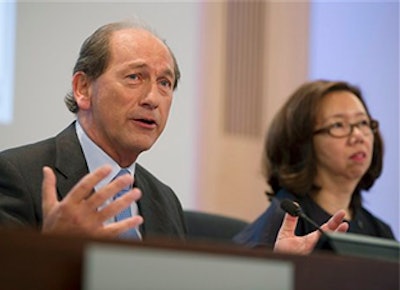 GENEVA (AP) — Nestle, the world's biggest food and drink company, posted Thursday a 4 percent rise in sales for the first nine months of 2013, mainly thanks to demand from emerging markets.
The maker of Nescafe, Jenny Craig and Haagen-Dazs said it had sales of 68.4 billion Swiss francs ($74.5 billion) through September, up from a restated 65.7 billion Swiss francs during the same period in 2012.
"Our real internal growth has regained momentum and is broad-based across categories, price points and geographies. Most notably, Europe continues to grow and Asia and Africa have picked up speed," Chief Executive Paul Bulcke said.
The news sent shares in Nestle up by nearly 2.7 percent to 63.65 francs in morning trading.
The company, based in Vevey, Switzerland, said it expects sales to grow around 5 percent for the full year, excluding the impact of new acquisitions and shifts in currency values.
That will ease some concerns for shareholders after Nestle had this year cautioned it might not be able to meet its usual target of between 5 to 6 percent annual organic growth.
In its biggest market, North America, Nestle said sales continued to grow, particularly for frozen meals, pizza and snacks, despite the tough economic environment. It said cereals, Kit Kat bars, Nescafe and pet care were doing well in Latin America, despite the impact of high inflation.
Europe's weak consumer demand were affecting sales, and poor summer weather resulted in a short season for ice cream, Nestle said. Britain, Austria, Germany and Switzerland were holding up better than other areas, it said.
There was a continuing economic slowdown across emerging markets in Africa, Oceania and the Middle East, where local conflicts and civil disturbances disrupted several markets. Central and West Africa and Indonesia, however, saw strong sales growth.
China's sales also continued to grow, the company said, but in a somewhat slower trading environment.