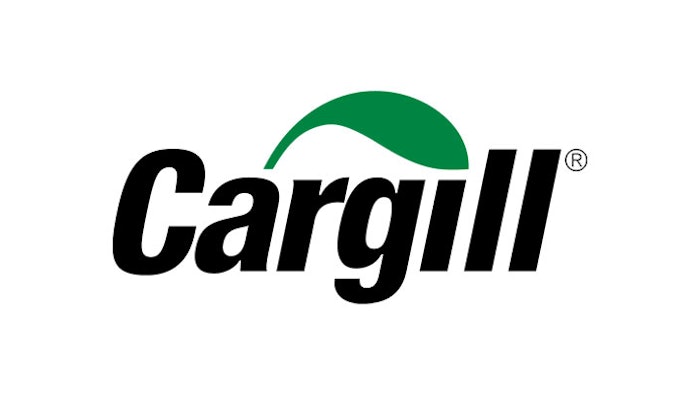 MINNEAPOLIS, April 5, 2018 (PRNewswire) — Cargill on Thursday reported financial results for the fiscal 2018 third quarter and first nine months ended Feb. 28, 2018. Key results include:
Adjusted operating earnings were $559 million, a 22 percent decrease from last year's $715 million. Nine-month earnings totaled $2.4 billion, down 7 percent from $2.58 billion a year ago.
These earnings included a net charge of $161 million related to the recently enacted U.S. Tax Cuts and Jobs Act. Excluding the charge, Cargill's results were on pace with last year's third quarter and first nine months.
Net earnings for the quarter on a U.S. GAAP basis were $495 million compared with $650 million a year ago. Nine-month net earnings equaled $2.39 billion compared with last year's $2.49 billion. Excluding the tax charge, the third quarter was in line with last year; the nine-month figure exceeded the prior period.
Third-quarter revenues rose 2 percent to $27.85 billion, increasing the year-to-date figure to $84.32 billion.
"Our steady results from operations demonstrate that our strategic direction is the right one," said David MacLennan, Cargill's chairman and chief executive officer. "The performance of our team worldwide keeps Cargill moving ahead, preparing us to continue to grow."
During this extended period of sluggish agricultural commodity markets, Cargill is taking action to transform and differentiate itself. MacLennan cited the company's integrated approach to global operations, its ongoing appraisal and enhancement of assets along supply chains, and its investment in new capabilities and technologies. "In a time of continually changing expectations, we are setting ourselves apart in order to help our customers succeed."
Segment results
Posting a solid increase in adjusted operating earnings, Animal Nutrition & Protein led company results for the fourth successive quarter. Performance in complete animal feeds, premixes, additives and micro-nutrients contributed strongly to earnings, as did beef and egg protein results in North America. The segment's aqua nutrition and poultry businesses trailed the year-ago quarter due to a mix of factors, including lower pricing in some markets.
Cargill continued to increase its presence in targeted animal nutrition and protein markets. The fresh poultry joint venture between Cargill and the U.K.'s Faccenda Foods was completed in January and now operates as Avara Foods. C-Joy, a joint venture between Cargill and Asian foodservice company Jollibee Foods, opened its new poultry processing facility in Batangas province, south of Manila. It provides dressed and marinated chicken to Jollibee Foods' stores and restaurants in the Philippines. In beef, the company is expanding its Columbia, South Carolina, ground beef plant, which it purchased in 2016.
Advancing its digital capabilities, Cargill made a minority equity investment in Cainthus, a Dublin-based company that uses predictive imaging analytics to monitor the health and well-being of livestock. The proprietary technology uses on-farm cameras with facial recognition software to identify individual dairy cows and track their movement and behavior. It then employs algorithms to deliver analytics that can benefit producers' decision-making about their farms. Cargill also introduced iQShrimp, a predictive software that uses machine learning and sensors to provide shrimp producers with real-time visibility into their operations. Finally, it opened a fish feed mill and a technology application center in Andhra Pradesh state, a central place for aquaculture in India. Both facilities are aimed at helping shrimp and fish farmers grow healthy seafood with improved productivity.
Earnings in Food Ingredients & Applications decreased on mixed performance, with the segment the second-largest contributor to company earnings. Cocoa, chocolate and edible oils posted performance gains. Lower ethanol prices in North America and higher manufacturing costs in Europe tempered results in global sweeteners and starches; the third quarter also tends to be seasonally slower for corn sweeteners. Snowy weather boosted salt sales, but results were muted due to higher production costs, lower sales prices for road salt and rising truck freight costs on packaged salt products.
With interest in plant-based foods on the rise, Cargill invested $25 million in a joint venture with Minneapolis-based Puris, the largest North American producer of pea protein. The company mills yellow peas into nutritious, highly functional proteins for use in label-friendly baked goods, cereals, dry blend beverages, snack bars and more. Through the joint venture, Cargill and Puris will expand manufacturing and commercial capabilities to support growth in new markets. Also in food ingredients, Cargill's salt business opened its first food-grade potassium chloride operation at its salt facility in Watkins Glen, New York. A naturally occurring mineral, potassium chloride enables food manufacturers to lower sodium content in a wide range of food products by up to 50 percent, without sacrificing taste or functionality.
Earnings in Origination & Processing edged ahead of last year's moderate third quarter. After five years of very large crops, the buildup in global stocks has quieted markets, but volatility picked up late in the period, allowing for better trading opportunities. Origination in Brazil remained slow; oilseed processing results in several regions were poor but with an improved outlook as margins strengthened at the end of the period. The segment continued to focus on efficiency and execution. It also is investing in technology to better connect its global operations and supply chains, enhance trading and risk management, and bring farm customers additional insights and tools so they can better manage their risks and market their crops.
Quarterly results decreased slightly in Industrial & Financial Services, due in part to lower returns from Cargill's fund investments against a strong comparative period. Operationally, the segment's metals and ocean transportation businesses surpassed last year's third quarter, buoyed by strong analytics and changing market dynamics that enhanced trading performance. Trade and structured finance moved ahead on a diversified performance.
Partnerships and commitments for a sustainable future
Cargill continues to take action to advance a sustainable food system that nourishes the world. Building on nearly 20 years of climate action, the company committed in February to reduce absolute greenhouse gas emissions within its operations by a minimum of 10 percent by 2025, using 2017 as a baseline. The commitment is aligned with the U.N. Sustainable Development Goals, the Paris climate agreement, and science-based targets that are intended to keep the global rise in temperature below 2 degrees Celsius. The strategy to reach this commitment was developed in partnership with The Nature Conservancy.
To strengthen global shipping, Cargill's ocean transportation business announced four new partnerships with organizations committed to reducing emissions, enhancing the safety and well-being of seafarers, gender inclusion, and anti-corruption measures. Progress in all of these areas is important to the long-term sustainability of the maritime sector, which itself is a vital part of delivering food from where it is grown to where it is needed.
To discover new breakthroughs for a safer and more sustainable food supply, Cargill joined with Ecolab, a leader in food safety and clean water, and Techstars, which has a proven startup development model, to create a Farm to Fork Accelerator. The three-year program will connect the three organizations with promising food and agriculture startups to share mentorship, expertise and other resources. Applicants will be selected with a focus on those seeking to advance food security and safety, ag tech, and supply chain management. The first 10 enrollees will come to the Twin Cities for a 13-week engagement this summer, culminating in a demonstration day planned in October where Cargill, Ecolab and potential investors will hear pitches from the participants.
During the quarter, Cargill also launched a new partnership with Gastromotiva, a Brazil-based NGO helping to drive the Social Gastronomy Movement. This chef-led movement seeks to draw attention to the ways food can work as a force for social progress on issues such as nutrition, food waste, economic inequality and employment. The company's three-year, $1.5 million commitment will help bring this model to scale globally.
"To fulfill our purpose of nourishing the world in a safe, responsible and sustainable way, we are looking to combine efforts with a diverse set of organizations," MacLennan said. "These partnerships offer the chance to unlock creative breakthroughs that meet collective challenges."
Explanation of non-GAAP financial measure
Cargill reports financial results in accordance with U.S. generally accepted accounting principles (GAAP). The company additionally reports adjusted operating earnings, a non-GAAP financial measure that management believes provides additional insight into the underlying financial performance of ongoing operations. In calculating adjusted operating earnings, Cargill includes earnings and losses from non-controlling interests, with the exception of those from its asset management business. Mark-to-market gains and losses on intercompany contracts between the Origination & Processing and the Food Ingredients & Applications segments also are included. Cargill excludes the following six items: timing differences related to inventory, derivatives and hedging; last-in, first-out (LIFO) inventory adjustments; amortization of intangible assets; gains and losses on changes in investment structures; asset impairment and restructuring charges; and gains and losses on disposals of businesses and other long-term assets. For more information, visit www.cargill.com/company/financial/index.jsp.
About Cargill
Cargill's 155,000 employees across 70 countries work relentlessly to achieve our purpose of nourishing the world in a safe, responsible and sustainable way. Every day, we connect farmers with markets, customers with ingredients, and people and animals with the food they need to thrive. We combine 153 years of experience with new technologies and insights to serve as a trusted partner for food, agriculture, financial and industrial customers in more than 125 countries. Side-by-side, we are building a stronger, sustainable future for agriculture. For more information, visit Cargill.com and our News Center.