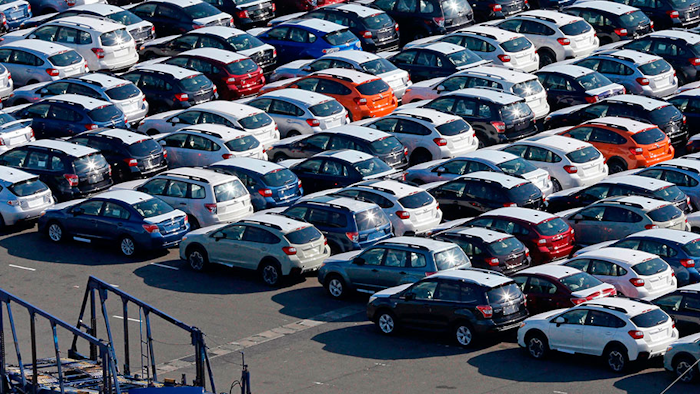 TOKYO (AP) — Japan's trade surplus with the U.S. grew nearly 6 percent in the fiscal year through March, the first increase in two years, according to data released Wednesday.
The trade figures were reported as Prime Minister Shinzo Abe visits the U.S. for meetings with President Donald Trump, who has complained repeatedly about the trade imbalance with Japan.
The Finance Ministry said the trade surplus with the U.S. totaled 6.999 trillion yen ($65 billion), as growing Japanese exports of cars and other machinery offset rising imports of gas, coal and other major products.
Trump said after meeting with Abe that the two leaders did not agree on a major pan-Pacific trade pact, called the Trans-Pacific trade partnership, or TPP. Trump ended U.S. involvement in the accord just days after his inauguration, but has recently said he might be open to re-joining.
"Too many contingencies and no way to get out if it doesn't work. Bilateral deals are far more efficient, profitable and better for OUR workers," Trump tweeted after a dinner with Abe.
Wednesday's report said Japan's overall trade surplus in the last fiscal year was nearly 2.5 trillion yen ($23 billion). That was down 38 percent from the previous fiscal year but the second straight year of a global surplus for Japan.
Exports rose nearly 11 percent, the first rise in three years, while imports rose about 14 percent, the first increase in four years.
Japan has been increasing oil and gas imports in recent years after almost all its nuclear reactors were pulled offline after the 2011 Fukushima nuclear disaster. But that has not been enough to offset the strong exports of autos, steel and computer chips that Japan recorded with the rest of the world.
Preliminary data for March showed exports rising 2.1 percent from a year earlier to 7.4 trillion yen ($68.8 billion) and imports slipping 0.6 percent to 6.6 trillion yen ($61.4 billion). The resulting 797.3 billion yen ($7.4 billion) surplus was up 32 percent from the same month a year earlier.
Imports from China sank 17 percent year-on-year while exports climbed 11 percent.
Japan's exports to the U.S. edged 0.2 percent higher in March from the year before to 1.4 trillion yen ($13 billion) while its imports climbed 0.6 percent to 732.8 billion yen ($6.8 billion).