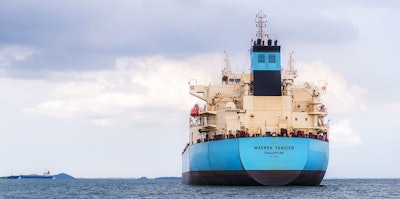 Danish conglomerate A.P. Moller-Maersk this week announced an agreement to sell its Maersk Tankers division to its investment arm for $1.17 billion.

The company, which operates the world's largest container shipping line, plans to divest the tanker business after nearly 90 years as it focuses on container shipping, ports and logistics. Officials last month announced the sale of Maersk Oil to French oil company Total for $7.45 billion.

Under the latest deal, A.P. Moller Holding will assume control of Maersk Tankers' organization, portfolio and obligations. The investment arm plans to establish an ownership consortium for the business with Japanese giant Mitsui & Co. and other potential partners, although it would own a majority share of the group.

"We look forward to becoming a part of A.P. Moller Holding under which we will continue to strengthen our third-party services and commercial performance, building on our position as digital frontrunner in the industry," Maersk Tankers CEO Christian Ingerslev said in a statement.
Maersk Tankers is one of the world's top oil tanker companies with some 3,100 employees and a fleet of 161 vessels, nearly half of which are owned by Maersk.

Proceeds from the transaction will be used to reduce A.P. Moller-Maersk's debt.

"As former CEO of Maersk Tankers for more than 10 years, I recognize the importance of having an owner with a long-term market view in this industry, and this is why I am pleased that Maersk Tankers can continue to build on its strong name and position under A.P. Moller Holding," said A.P. Moller-Maersk CEO Soren Skou.