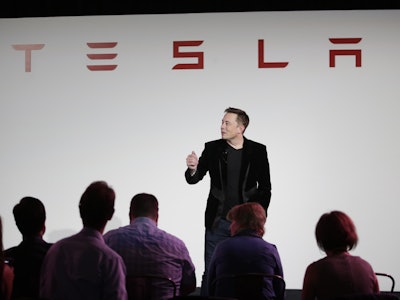 A Silicon Valley recycling startup recently disclosed that two of its executive officers also hold prominent roles at electric vehicle maker Tesla.

Reuters, citing a report from research firm CBInsights, said that the late April filing with the Securities and Exchange Commission could indicate ties between Tesla and Redwood Materials Inc.

Redwood Materials, based in Redwood City, Calif. — near Tesla's Palo Alto headquarters — registered a nondescript website last month that indicated plans to focus on material re-use, recycling and re-manufacturing.

The SEC filing listed Tesla chief technology officer JB Straubel and head of special projects Andrew Stevenson as officers, as well as $2 million raised from a single, unnamed investor in April.
The filing did not disclose a direct link to Tesla, but Reuters noted that the company earlier this year identified "re-thinking the materials supply chain" as a priority.

Tesla gained notoriety as a manufacturer of luxury electric vehicles, but the company subsequently expanded into battery systems and last year acquired solar panel installer SolarCity.

CBInsights, which first noted Straubel and Stevenson in the SEC filing, reportedly suggested that Tesla could be hoping to capitalize on innovation and efficiency in its materials operations as it dramatically accelerates vehicle production.