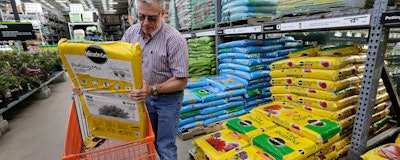 The U.S. economy likely slowed significantly in the first three months of the year, though economists foresee a sharp rebound in the current April-June quarter on the strength of solid job growth, higher consumer confidence and stock-market records.
The government on Friday will release its first of three estimates of growth for the January-March quarter as measured by the gross domestic product. The expectation is that annualized GDP growth will amount to around 1 percent — less than half the 2.1 percent gain in the previous quarter.
A variety of factors are cited for the expected slowdown, ranging from warmer-than-usual weather that held back utility production to an IRS delay in distributing tax refunds, which possibly dampened consumer spending at the start of 2017.
There is also the problem the government faces this time of year in accurately applying seasonal adjustments to its calculations of economic growth. This occurs, for example, in taking account of housing construction, which typically slows in the January-March quarter depending on how cold the winter is.
The Bureau of Economic Analysis, which prepares the GDP report, has a three-year program aimed at addressing this problem, which has been particularly problematic in the first quarter. Analysts say that lingering issues in this area may artificially hold down Friday's initial GDP estimate for the first quarter.
At the same time, most forecasters predict a sizable snapback in growth. Economists at Macroeconomic Advisers expect that a lackluster performance of around 0.5 percent annual growth in the first quarter will be followed by a 3.6 percent gain in the second quarter. Other analysts, while not quite that optimistic, foresee annual growth above 3 percent.
"There are a lot of tailwinds behind consumers going into the spring, including low unemployment, better wage growth, high consumer confidence and record stock prices," said Mark Zandi, chief economist at Moody's Analytics.
Job growth was strong in January and February before slowing in March, and the unemployment rate is at a nearly decade-low of 4.5 percent.
For all of 2017, Zandi forecasts GDP growth of 2.2 percent. That would be up from 1.6 percent in 2016, the slowest expansion in five years.
President Donald Trump noted the weak 2016 GDP performance in a tweet Wednesday and contended that "trade deficits hurt the economy very badly."
During the campaign, Trump had pointed to the economy's slow growth, which has averaged just 2.1 percent annually since the Great Recession officially ended in June 2009. Trump said he could double growth to 4 percent, though since then, Treasury Secretary Steven Mnuchin has said the goal is to achieve GDP growth of 3 percent or better with a combination of lower taxes, deregulation and better enforcement of trade agreements.
On Wednesday, the administration released an outline of its tax-cut plan, proposing to cut rates on both individuals and businesses and provide what Mnuchin called "massive tax reform." But economists expressed doubts that the proposal could move growth above 3 percent. Many said that whatever plan finally survives Congress might raise annual growth to perhaps 2.5 percent.
Part of the problem for the administration is that its efforts to boost the economy are coming after the economic expansion has been under way for nearly eight years. At this point in a recovery, stimulus measures tend to have less impact. The Federal Reserve, in fact, has begun raising interest rates to ensure that the tight job market doesn't trigger high inflation pressures.
For now, analysts say they think Trump's stimulus efforts and the Fed's gradual tightening can co-exist. Yet they also caution that the Fed may eventually raise rates to a point where they will begin to constrain growth, making it harder for Trump to achieve his GDP goals.