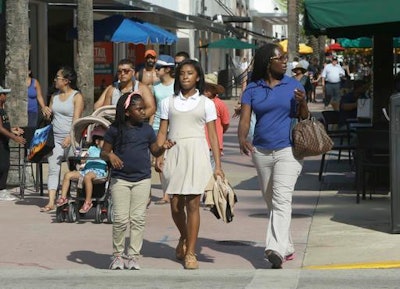 U.S. consumer confidence slipped in April but remains at high levels.
The Conference Board, a business research group, said Tuesday that its consumer confidence index registered 120.3 this month, down from 124.9 in March, which was the highest reading in 16 years.
Americans' assessment of current conditions and their expectations for the future both dipped this month. Their outlook for the jobs market also dimmed.
Still, consumers' spirits have risen sharply since the Nov. 8 election of President Donald Trump.
"Despite April's decline, consumers remain confident that the economy will continue to expand in the months ahead," said Lynn Franco, the Conference Board's director of economic indicators.
More than 14 percent of respondents said they planned to buy a car in the next six months — the most since July 2012.
Economists closely monitor the mood of consumers because their spending accounts for about 70 percent of U.S. economic activity.
The Commerce Department reported earlier this month that Americans pulled back on their spending at retailers in March on top of a February drop. Still, retail sales were up 5.2 percent over the previous 12 months. And U.S. sales of new homes surged in March at the fastest pace since July, Commerce reported Tuesday.