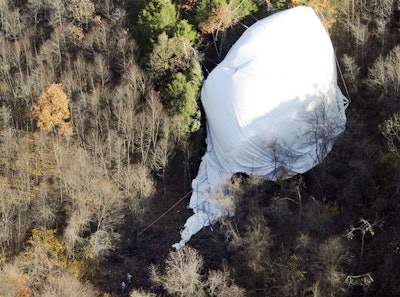 The Army has received 12 claims for over $300,000 in damages attributed to a wayward blimp that broke loose in Maryland and came to rest in the Pennsylvania countryside in October.
Spokesman Dov Schwartz confirms the claims but says he can't disclose their nature.
Pennlive.com reports the list doesn't include a claim power company PPL plans to file to recover costs of restoring power to 35,000 customers.
The slow-moving, unmanned Army surveillance blimp broke loose from its mooring at Aberdeen Proving Ground and then floated over Pennsylvania for hours on Oct. 28, causing electrical outages as its tether hit power lines.
Those who incurred damage from the blimp or its tether have two years to file a claim.
What caused the blimp to become detached remains under investigation.