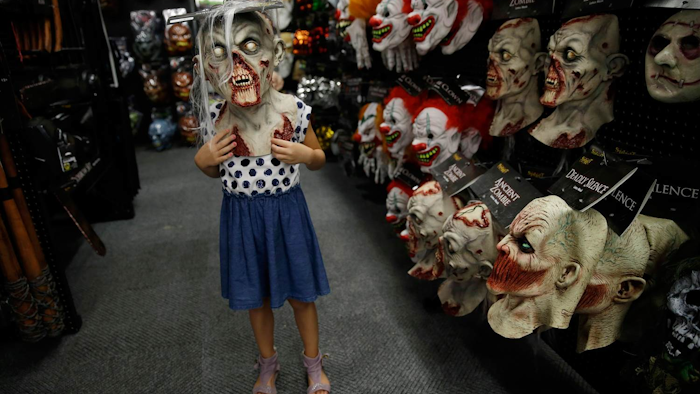 The spooky holiday means big business for a lot of industries across the United States. Despite the fact that the holiday didn't turn into a fun, kid-centered seasonal celebration until the 1950s, Halloween grew into one of the largest holidays in the U.S. in terms of retail spending. This year, that spending is expected to nearly reach $7 billion. Let's see where all that cash is going.
$74:  Amount the average American is expected to spend on the holiday.
68 Million:  Number of people planning to don a costume. The top three Googled costume concepts for 2015 are "Harley Quinn," "Star Wars" and "superhero" — specifics like Batman and Wonder Woman also made the Top 10.
1,148:  Number of stores across the country selling and renting costumes as of 2013.
$2.5 Billion:  What Americans are projected to spend on either store-bought or homemade costumes. $950 million of that will be for kids' costumes, and $350 million will go toward 12.9 percent of pet owners disguising their furry, four-legged friends.
50,900:  Acres of pumpkins plucked in 2013, for an estimated production value of $149.9 million.
$1.9 Billion:  Amount Americans are anticipated to spend on Halloween décor.
1,337:  Manufacturing facilities that produce chocolate and cocoa treats, according to a recent U.S. census.
441:  Factories that produce non-chocolate confectionary delights.
$2.6 Billion:  Predicted candy sales in the U.S. (The percentage expected to survive trips past the candy dish to make it into the hands of trick-or-treaters is yet to be determined.)
How will you spend this Halloween? Do you put more dollars toward the candy or the costumes? Comment below or tweet @MNetKatie.