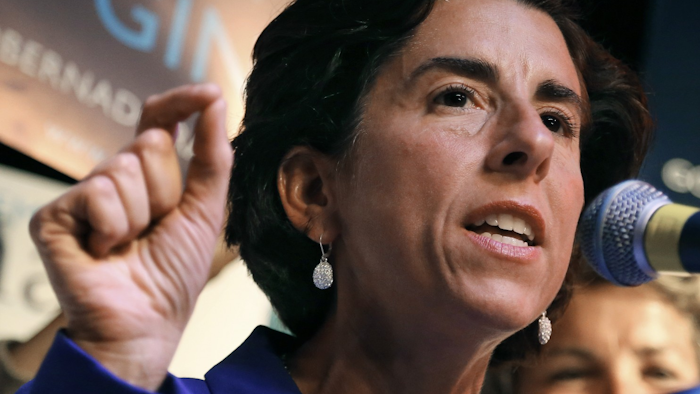 PROVIDENCE, R.I. — The House Finance Committee is poised to unveil a budget plan that has the job creation tools the governor wants, but not the toll she proposed on large commercial vehicles to fund bridge repairs.
The committee is expected to vote on the $8.6 billion budget Tuesday.
Democratic Gov. Gina Raimondo has asked for funding to offer tax credits for projects that produce jobs, attract businesses to the land freed up by the relocation of Interstate 195 and provide capital for small businesses, among other projects. She wants to offer another tax credit to spur real estate development.
House Speaker Nicholas Mattiello said there will be some caps and controls, but "in essence, we're giving the governor all of the tools she requested" to incentivize job creation.
But as it stands now, the toll proposal isn't making it in, Mattiello said Thursday. He said he still has questions about it and he's concerned about the effect on businesses. The Cranston Democrat said the issue needs to be addressed, but the House isn't ready to act.
In previous years, there were emotional debates over repaying the bonds for the failed 38 Studios deal and legalizing gay marriage. Former Boston Red Sox pitcher Curt Schilling's video game company got a $75 million state-backed loan before it went bankrupt in 2012, leaving state taxpayers on the hook.
There doesn't appear to be a lightning rod for controversy this year.
House Minority Leader Brian Newberry said he doesn't see anything among the budget proposals that's a deal breaker for Republicans.
Some lawmakers have objected to the idea of publicly funding a proposed new stadium for the Pawtucket Red Sox in Providence. But Mattiello said he's not planning on including that deal in the budget.
The General Assembly is also considering whether to approve the settlement terms for a deal in the legal fight over the state's public pension system overhaul; several leading lawmakers say people are ready to move on and the terms will likely be approved. Raimondo has proposed changes to the Medicaid system designed to save the state $91 million, and there also seems to be agreement on the need to reform the health care system.
Mattiello predicted the budget will have "overwhelming support."
House Majority Whip John Edwards said, "I actually don't think it's going to be that heavy a lift."
Newberry said there may be individual budget articles that Republicans vote against, but he's optimistic that they can support the overall proposal.
"I suspect there's going to be a lot in there that we've been pushing for, and would support, like the Medicaid restructuring, like the Social Security tax cut," said Newberry, who represents North Smithfield and Burrillville.
Mattiello's top priority is exempting Social Security from the state income tax. Raimondo's budget includes an exemption but for seniors who make $50,000 or less and couples who make $60,000 or less. Mattiello is broadening it.
Mattiello is also trying to phase out the sales tax on energy for commercial users more quickly than Raimondo proposed.
Also in the budget, Rhode Island's health insurance exchange will be funded and maintained as a state exchange, Mattiello said.
A contentious luxury tax for pricey second homes dubbed the "Taylor Swift tax" has been eliminated. Grammy winner Swift has a beachfront mansion in Westerly.
The finance committee restored funding to pay for transportation and textbooks at private schools after that cut sparked controversy.
The budget is debated on the House floor one week after the finance committee votes.